Faculty
Directory Details
[Return to Previous Listing]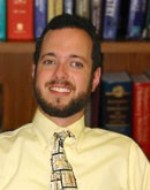 Kurt Winkelman
Associate Professor, Chemistry, Florida Institute of Technology
Phone: (321) 674-7376
Florida Institute of Technology
150 West University Boulevard
Melbourne, FL 32901-6975
https://services.fit.edu/profiles/profile.php?value=85
Education:
Postdoctoral Researcher, Northwestern University, 2001; Ph.D., Auburn University, 2000; B.S., Virginia Tech, 1995
Research Interests:
Research Interests
My research projects tend to overlap with other fields, such as chemical and materials engineering, molecular biology and other areas of chemistry. Collaborations with other faculty are common. I supervise many students who gain valuable laboratory skills and learn what it's like to really dochemistry. These students present their work at scientific conferences and are co-authors on any related publications. I have a strong interest in improving the chemistry curriculum. Finding better ways to teach chemistry will help students appreciate the value of chemistry and they will learn more. Projects include the introduction of IT into the classroom and developing new laboratory experiments. Broadly speaking, I am interested in studying the rates and mechanisms of photocatalytic reactions. Catalysts enhance the reaction rate by providing an alternative pathway between reactants and products. In many cases, the catalytic reaction is initiated by the absorption of light. Knowledge of the mechanism helps us understand not only how that particular reaction occurs, but also how light, catalysts and reacting molecules interact with each other. With this knowledge, the reaction can be optimized to occur at the desired rate and create the desired product.
Current Research
Projects currently funded include:
$33,000 grant from the Dreyfus Foundation to develop new nanotechnology experiments for freshmen
$4000 from Terasem Foundation to create virtual chemistry laboratory experiments in Second Life
Under contract with American Scientific Publishers to write a introductory nanotechnology laboratory manual with Dr. James Brenner
Other research projects include:
Studying the mechanism of aqueous pollutant oxidation by FeO42- in collaboration with Dr. Virender Sharma
Investigating the reduction of chlorofluorocarbons in TiO2 suspensions using UV and visible light
Developing new chemical methods for measuring light intensity
Producing digital video clips for laboratory instruction with Drs. Monica Baloga and Clayton Baum
Undergraduate and graduate students have participated in all of these projects and several have been supported by internal and external funding agencies.