Photovoltaics (PV)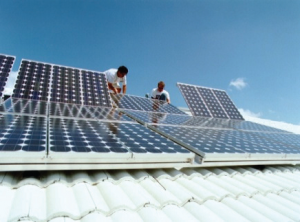 Harnessing Florida's Solar Resources
FESC Photovoltaic (PV) Expertise and Resources
Photovoltaics (PV) directly converts light to electricity and can be deployed in a distributed manner. Both thin film and organic PV technologies as well as systems integration are being pursued by Consortium faculty. Concentrated solar thermal energy is also being explored for conversion to electricity, production fuels and feed stocks as well as water desalination. The faculty research expertise in solar thermal and PV across the Consortium is well recognized for its excellence.
Core Faculty and Research Expertise
| | | | |
| --- | --- | --- | --- |
| Faculty | University | Expertise | Department/ Position |
| Amir Abtahi | FAU | Fuel Cell Design and Optimization; Energy and Thermal Systems; Systems Dynamics; Modeling; Solar Energy | Associate Professor, Mechanical Engineering |
| C.T. Tsai | FAU | Defect generation in the growth of semiconductor crystals | Professor, Mechanical Engineering |
| Wonbong Choi | FIU | Nano Materials (Carbon Nanotubes, Graphene, ZnO nanowire, ZnO thin film), Energy materials: Li-ion battery, Dye sensitized Solar Cell and Biofuel Cell, Nano-bio Electronic Sensors (DNA, NO), and Nanoelectronics (high field emission, FET, Interconnect and Memory) | Professor, Materials Science and Engineering |
| Shekhar Bhansali | FIU | Micro/Nano fabrication, materials selection, process design of high-frequency rectifiers | Alcatel-Lucent Professor & Chair, Electrical and Computer Engineering |
| Nicoleta Sorloaica-Hickman | FL Polytech | PV and thermoelectric materials, devices and testing; High efficiency Nanostructured Inorganic/Organic Hybrid Solar Cells; PV Module Reliability and Durability Prediction and Experimental Studies; Dust mitigation technologies for Photovoltaic applications | Associate Professor, Physics |
| Jim Zheng | FSU | Capacitors, nano-sensors, energy storage, fuel cells, photonics, thin film growth | Sprint Eminent Scholar Chair in Electrical and Computer Engineering Professor |
| Petru Andrei | FSU/FAMU | Modeling and simulation of nanoscale semiconductor devices and sensors, lithium batteries, fuel cells, sensors, magnetic materials, and on computational electromagnetics | Professor and Graduate Program Director, Electrical and Computer Engineering |
| Hans Chapman | FSU/FAMU | Design, manufacturing, testing and analysis of renewable energy systems | Instructor, Industrial and Manufacturing Engineering |
| Simon Y. Foo | FSU/FAMU | High efficiency multijunction solar cells; Concentrator PV cells; Thin film deposition; Solid state electronics; Nanoelectronics; Stand-alone and grid-connected PV applications; Energy storage | Professor, Electrical Engineering |
| Yaw Owusu | FSU/FAMU | Biological PV, alternative renewable energy, nanotechnology, sensors, environmentally-conscious design and manufacturing | Associate Professor, Industrial and Manufacturing Engineering |
| Artem Masunov | UCF | Computational materials, nanoscience, theoretical chemistry, and biophysics | Associate Professor, Chemistry; Nanoscience Technology Center |
| Winston Schoenfeld | UCF | Light Emitting Diodes (LEDs), enhanced light extraction and packaging | Professor, College of Optics and Photonics |
| Danny Parker | UCF/FSEC | PV within zero energy home designs, match of PV to utility peak loads | Principal Research Scientist, Buildings Research |
| Kristopher Davis | UCF/FSEC | Surface passivation materials, carrier-selective materials and heterostructures, optical materials and photon management, characterization of photovoltaic cells and modules, defect detection and root cause analysis in photovoltaics, reliability and durability of photovoltaics | Assistant professor, Materials Science & Eng., Resilient, Intelligent & Sustainable Energy Systems (RISES) Cluster |
| Neelkanth Dhere | UCF/FSEC | Photovoltaic and Photo-electrochemical cells and PV Module Reliability | Program Director and Professor |
| Robert Reedy | UCF/FSEC | Energy marketing, financing and business planning | Director, Solar Systems Research |
| Gijs Bosman | UF | Hot carrier solar cell modeling and characterization | Professor, Electrical & Computer Engineering |
| Jiangeng Xue | UF | Organic electronic materials and devices; Thin films; Organic PV cells; Organic light-emitting devices organic transistors and memories; Hybrid polymer-inorganic nanocrystals solar cells; Organic and hybrid organic-inorganic light-emitting devices; Surface/interface characterization | Professor, Materials Science and Engineering |
| Kevin Jones | UF | Solid state batteries, Ion beam processing, characterization of inorganic materials, TEM, Atom probe tomography, XRD etc. | Distinguished Professor, Materials Science & Engineering |
| Peng Jiang | UF | Self-Assembled photonic crystals and colloidal plasmonics; Electro-kinetic separation and micro-analysis of bio-macromolecules; Nanocrystalline for ultra-high density magnetic and optical recording self-healing materials | Professor, Chemical Engineering |
| Wolfgang Sigmund | UF | Synthesis and testing of novel nanostructured materials for energy storage (batteries and hydrogen) | Professor, and Graduate Coordinator, Materials Science and Eng. |
| David Wei | UF | Surface chemistry; Nanomaterials for rechargeable batteries; Functional nanostructures for advanced energy storage; Electrochemistry | Associate Professor, Chemistry |
| Chris Ferekides | USF | Thin film and 3rd generation PV; electronic materials for opto-electronic applications | Professor, Electrical Engineering |
| Don Morel | USF | Photovoltaics, rectennas | Professor, Electrical Engineering |
| Elias Stefanakos | USF | Solar energy conversion, hydrogen production & storage, electric/hybrid vehicles | Director, Clean Energy Research Center |
| Pritish Mukherjee | USF | Hybrid quantum dot based solar devices, thermoelectric materials, superconductors | Professor, Department of Physics |
| Xiaomei Jiang | USF | Material properties of solar cells, light emitting diodes and thin film transistors | Associate Professor, Department of Physics |
| Yogi Goswami | USF | Solar thermal, thermodynamics, heat transfer, HVAC, photovoltaics, hydrogen, fuel cells | Professor, Chemical Engineering, Director, Clean Energy Research Center |
| Tom Weller | USF | Design, modeling and characterization of high frequency antenna | Chair, Electrical Engineering |
Infrastructure, Facilities, and Other
Florida Solar Energy Center (http://www.fsec.ucf.edu/en/)
The PV and TE Process Development and Integration Laboratory at FSEC and NSTC
Clean Energy Research Center (http://cerc.eng.usf.edu/)
University of Florida High-Performance Computing Center (http://www.hpc.ufl.edu)
Thin Film Electronic Materials Laboratory at USF; includes full capabilities for solar cell fabrication and characterization
512 processor computer cluster
Pulsed solar simulators SPI-SUN 660 and SPI-SUN 460 SLP for indoor testing and power rating of PV modules
Indoor and outdoor test facilities for PV module performance certification
Inverter test facility for performance characterization and reliability evaluation of residential grid-connected inverters
Battery test facility for performance evaluation of storage batteries
Distributed Energy Resources Test Facility (DERTF) for evaluation of utilization efficiency of microturbines and stationary fuel cells in combined heat and power (CHP) applications.
Polymer-based solar cells
Solar cell fabrication systems including spin coaters, nitrogen glove boxes and vacuum evaporators
Sputtering systems for metal and oxide deposition
Solar simulators and device characterization systems for PV measurements
Cryostat for low temperature measurements
Nitrogen laser and diode pumped solid state laser
Dimatrix X-Y-Z electronicmaterial ink jet
WS-650-23NPP-LITE-OND. Automatic spin coating unit: Customized system capable of coating Photoresists, Anti-Reflectives, Polyimides, Metallo-Organics, Dopants, Silica Films, and Most Organic and Aqueous Solutions.
Customized Small Plasma Enhanced Chemical Vapor system used for PV basic research
Nordson MARCH Plasma Enhanced Chemical Vapor System for industrial scale prototype
Tabletop Spraying and Coating System for Solar Cell Manufacturing: Fully enclosed XYZ tabletop ultrasonic spraying system designed for depositing solutions, suspensions, and nanosuspensions.
Lab-Line Duo-Vac ovens: Controlled oven for dark sample exposure at elevated temperatures
Homogenizers and Ultrasonicator; IKA KS-250 Mechanical Shaker
Shimadzu UV-VIS-NIR Spectrophotometer; Multi-Wavelength Abbe Refractometers; Microscope and Micromanipulator
Customized External and Internal Quantum Efficiency System: Measures internal and external quantum efficiency (IQE) of multijunction and novel PV devices.
Solar Simulators for characterization of novel developed solar cells
Oriel Sol3A simulators certified to IEC 60904-9 Edition 2 (2007), JIS C 8912, and ASTM E 927-05 standards for Spectral Match, Non-Uniformity of Irradiance, and Temporal Instability
Abet Solar Simulators 1000 Watt Full Spectrum Solar Simulators
Oriel 1-kW Solar Simulators, UV Solar Simulators —Accelerated exposure of samples in UV range to 450 nm with an integrated 300 to 400 nm intensity of 2 UV suns
Full-spectrum Solar Simulator—Xenon arc; exposure in UV-visible to IR range
High-Bay Accelerated Testing Chamber
Indoor Accelerated Exposure Testing Laboratory
Complete PV indoor and outdoor IV curve tracing Solar Cell and Modules Characterization – Software & Hardware
SILVACO/ATLAS: Novel approach for the modeling of advanced PV devices using the virtual wafer fabrication tools.
Nanotechnology Research and Education Center (NREC) have 1250 sq.ft of clean room space fully equipped with fabrication and characterization equipment. The resources of this center include tools for thermal processing (BTI furnace bank, LPCVD, RTA), plasma processing (deposition, RIE, RF & ECR deposition and etching tools), thin film processing (e-beam and thermal evaporators), lithography (double sided mask aligner, dual track spin system, Nanometer Pattern Generation System equipped JEOL 840 SEM e-beam lithography), Characterization/metrology tools include s800 Hitachi- SEM and EDX, Philips XRD pro, Nanoscope AFM, TEM, FIB, DRIE. Additionally, an optical profiler Wyko NT9100 was recently procured for contactless profiling and 3D mapping.
The USF College of Engineering operates a computer network comprised of more than 150 high-end PCs and several high-performance Sun workstations for intensive computations. All of the computing facilities are freely accessible to execute the proposed research.
USF: BioMEMS and Microsystems lab includes a dedicated clean room. Fabrication equipment present in the lab includes all aspects of device development including tools for thin-film deposition – RF/DC Sputtering System, Denton DV 502 Thermal Evaporator, AJA PVDX 1800-E HV E-beam Evaporator, imaging – Veeco Dektak 6M surface Profiler, Olympus Optical Microscope with Labview image capture, Photo-reduction tool for rapid mask production, fabrication – EV 620 mask aligner with backside alignment, Laminar flow exhaust hoods for etching and lithography, Laurell Spinner with several high-resolution photoresist for lithography, Plasma Therm for photoresist ashing and High temperature open tube oxidation, annealing furnace, packaging tools – Logitech PM5 Precision Lapping machine, Kulicke & Soffa 4500AD Digital Ball bonder, Wafer dicing tool and measurement and characterizing systems – Cascade Microtech Summit 11562 Probe Station with Atto-Guard protection, Agilent 4294A(40-110MHz) Precision Impedance Analyzer, Keithley 2400, 2000 – Current sources and multimeters
Various thin film deposition tools including vacuum thermal evaporators, spin coaters, ink-jet printer, spray coater, and glove box
Complete solar cell characterization equipment
Thin Films Lab for the fabrication of CIGSeS and CIGS2 thin-film photovoltaic solar cells and photo-electrochemical cells. The facilities have potential of serving as a nucleus of a pilot plant for fabrication of CIGSeS minimodules. With the design and installation of a large-area, dual-chamber magnetron-sputtering unit (Figure) the substrate size has been increased to 6" x 4".
Laser scribing setup is available at Centre for Research in Optics and Laser (CREOL). The Nd:YAG laser is from Lee Laser and the model number is 8150MQ. The CO2 Laser is from Coherent and the model number is GEM-Q600.
Set-ups for the precise measurement of quantum efficiency (QE) and I-V characteristics. Surface profilometer for measurements of the thickness and roughness of thin films. The group has developed software routines for importing and analyzing raw JV, QE, CV, AES, and XPS data in spreadsheets to readily carry out calculations and plot curves.
The Materials Characterization Facility (MCF) at UCF is a user facility with state-of-the-art equipment for chemical and structural characterization of materials and their surfaces.
Teraliters to P room A IONIX 1.7 MV Tandetron Rutherford Backscattering System (RBS) for depth profiling.
A JEOL 733 Electron Microprobe with four wavelength dispersive spectrometers.
Two Secondary Ion Mass Spectrometers (Cameca IMS-3F and PHI Adept 1010)
Two systems for X–ray photoelectron spectroscopy (Physical Electronics 5400 ESCA and Physical Electronics 560 ESCA in combination with Auger Electron Spectroscopy).
A Physical Electronics 600 Scanning Auger Microprobe.
Two Scanning Electron Microscopes (JEOL 6400F with field emission source, 2 nm resolution and energy dispersive X-ray spectrometer) and a variable-pressure Hitachi S3500N.
A FEI 200 Focused Ion Beam (FIB) system for device modification and micro-machining and for the preparation of cross-sectional samples used in transmission electron microscopy (TEM).
A Fischione 1010 Ion Mill for thinning of cross-sectional TEM samples using Ar ions.
A Tecnai F30 for high-resolution TEM and high-resolution atomic number-contrast scanning TEM and electron holography. The system is equipped with an EDS system and a Gatan Imaging filter for elemental mapping at sub-nanometer resolution.
Equipment for the measurement of the local optically induced current (OBIC) is currently set up at the MCF. A Labview program has been developed to move the sample stage and acquire data from the lock-in amplifier at each scan step. The microstructures associated with these variations will be investigated by TEM.
PMEE Reactor for CIGS Deposition: A Plasma-Assisted Migration-Enhanced (PMEE) reactor designed and built at the University of Florida is available for CIGS film growth. The system is essentially a molecular beam epitaxy (MBE) system where the substrates rotate on a donut-shaped molybdenum platen that transports them through different deposition zones, effectively exposing the substrate to the mass fluxes produced by five sources. The system also features a fluxless zone designed to introduce a relaxation process that leads to the migration-enhanced-epitaxy mode of operation. The deposition takes place under ultra-high-vacuum conditions (typically in the low 10-8 Torr range) in a cylindrical bell-jar. Elemental Cu, In, and Ga fluxes are generated in thermal effusion sources built by Applied-Epi, with conical shaped crucibles and free evaporating surfaces. A double-oven thermal cracker is installed for the evaporation and cracking of Se. A unique custom-designed plasma cracker is also available to provide highly reactive fluxes of Se and S without requiring excessive temperatures. A fifth small source installed in the load-lock zone used for incorporation of dopants, such as Na.
Solar-cell Characterization Laboratory: Dark- and photo- current-voltage (I-V), quantum efficiency (QE), capacitance-voltage (C-V), capacitance-frequency (C-F), and admittance measurements; spectral responsivity measurement system based on a grating monochromator.
Semiconductor Characterization Laboratory: Necolian Fourier Transform Infrared Spectrometer; DLTS system; computer-controlled C-V, C-t, I-V systems; two Oriel grating monochromator systems; Oxford closed cycle cryogenic system for dark I-V and spectral response.
Microelectronics Processing Facility: 2,000 sq. ft. staffed by three permanent technicians; houses equipment for device and integrated-circuit fabrication for photovoltaics, microelectronic, and photonic applications; area for mask making, a class 10 clean room and an area for photolithography, a diffusion and oxidation area, a metallization via E-beam and sputtering systems area, and a packaging and characterization area.
Oxide Sputtering System: Perkin-Elmer 4400 series sputtering system with three RF planar diode sources, each handling an 8 inch target in a sputter down geometry and fitted with a magnetron. A stainless steal, load-locked vacuum, supported by a CTI 8 cryopump and a Leybold Trivac 60cfm rotary vane pump. Two mass flow controllers regulate introduction of Ar and O2 gas, to generate a controlled ambient over a 2-150 mTorr pressure range. A ZnO:Al target is used for depositing the transparent conducting electrode top-window layer.
Rapid Thermal-Processing System: 4100 HEATPULSE Rapid Thermal Processing system by AG associates located in clean room environment. Single-wafer, cassette-to-cassette rapid thermal processor, capable of processing in an inert or corrosive ambient. Includes a Heating Chamber, Quartz Isolation Tube, System Controller, Robot, Gas Control Electronics, ULPA Filtration System, Cooling Water Manifold, and Temperature Measurement Instruments. The 208-V, 1200-w tungsten halogen lamps are arranged in a bank of 10 above and 11 below the isolation tube.
Inductively Coupled Plasma Emission Spectroscopy: Perkin Elmer Optima 3200 RL
Major analytical facilities at UF: Advanced facilities available at the University of Florida in the Major Analytical Instrumentation Center (MAIC) and the Nanofabrication Facility for characterization of the microstructure and composition of thin films.