Faculty
Directory Details
[Return to Previous Listing]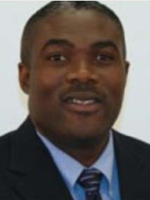 Hans Chapman
Postdoctoral Associate, Industrial & Manufacturing Eng, Florida State University
Phone: (850) 410-6248
2525 Pottsdamer Street
Tallahassee, FL 32310
http://www.eng.fsu.edu/~hanschap/
Education:
Ph.D., Materials Science and Engineering, University of Surrey, U.K., 1999
Research Interests:
Dr. Hans Chapman is the Associate Director for Research at the Research Center for Cutting-Edge Technologies, (RECCET), Department of Industrial and Manufacturing Engineering at the FAMU - FSU College of Engineering, Tallahassee, and Fl, USA.

Dr. Chapman's research activities are in the areas of Alternative Renewable Energy, Sensors and Smart Materials, Nanotechnology, Computer-Aided Design and Manufacturing. His primary research interest is the design, testing and analysis of renewable energy systems, such as photovoltaics and hydrogen fuel cells.