Faculty
Directory Details
[Return to Previous Listing]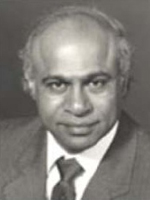 M. Yousuff Hussaini
Eminent Scholar Chair, High Performance Computing, Florida State University
Phone: (850) 644-0601
413 MCH
Florida State University
Tallahassee, FL 32306-4481
http://www.cespr.fsu.edu/people/myh/myh.html
Education:
Ph.D., Engineering, University of California at Berkley, 1970
Research Interests:
Professor Hussaini is internationally recognized for his interdisciplinary research involving modeling and large-scale simulation (based on high-order, high-performance numerical algorithms) in diverse fields. His interests include control and optimization, nano-fluids and -materials, uncertainty quantification in simulations, network analysis and simulation among others. He has three decades of track record in training computational scientists/engineers in multidisciplinary teams. Prior to joining FSU in 1996, he spent nearly 18 years at the Institute for Computer Applications in Science and Engineering, NASA Langley Research Center, Hampton, VA. He is the recipient of numerous awards and honors in recognition of his exceptional contributions and pioneering studies at NASA. He is the author/co-author of more than 200-refereed publications, coauthored three monographs and coedited twenty volumes.
Publications List:
"Structural Analysis for Assessment of Monitoring Possibilities: Application to Simple Power System Topologies," with Dü?tegör, D., Poroseva, S. V., Woodruff, S. L., Proceed. the IEEE PES General Meet., July 20-24, 2008 (Pittsburgh, PA).
"Modeling Topological Survivability of Power Systems," with Poroseva, S. V., Woodruff, S. L., Proceed. of the Grant Challenges in Modeling and Simulation Conference (GCMS'08), June 16-19, 2008 (Edinburgh, UK).
"Designing Survivable Power Systems," with Poroseva, S. V., Woodruff, S. L., Proceed. of the IEEE PES Transmission and Distribution Conference and Exhibition, April 21-24, 2008 (Chicago, IL).
"Application of Web-Topology to Enhance Survivability of the Integrated Power System in an All-Electric Warship," with Poroseva, S. V., Woodruff, S. L., Proc. Ships & Ship Systems Technology Symp., Nov. 13-14, 2006 (West Bethesda, MD).