Faculty
Directory Details
[Return to Previous Listing]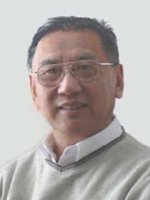 Paul Lee
Professional Geologist, FL Dept. of Environmental Protection, Florida State University
Phone: (850) 245-8231
FDEP 2600 Blairstone Road
Mail Station #3575
Tallahassee, FL 32399-2400
Education:
Ph.D. , Florida State University, 1991
Research Interests:
Dr. Lee joined the Florida Department of Environmental Protection in 1985. His dissertation created a physico-mathematic model on the origin and geometry of the 'Beach Profile', this work was invited to be presented at the International Coastal Engineering and Research Symposium in Hopf, Iceland, 1994. He has been working on diverse programs at FDEP including Superfund Site Evaluation, Underground Storage Tank Technology and Regulation, Ground Water Protection Technical Support, Springs Initiative, Industrial Wastewater Regulation, Power Plant Certification, Watershed Management and other special projects. Dr. Lee has broad interest in inter-disciplinary science and engineering subjects ranging from computer modeling of ground water flows, to computer controlled stepless ratio transmission. He has been issued 6 U.S. Patents in electronic instrumentation and mechano-electronic systems. He recently invented and constructed a computerized seepage meter to measure very slow seepage at the bottom of a lake or stream from ground water. He is especially interested in systematic analysis on the potential environmental impacts caused by sustainable energy source production.
Publications List:
Paul Z. Lee, "Continuously Variable Ratio Transmission," U.S. Patent 7,115,006, U.S. Patent and Trade Mark Office, Oct. 2006.
Paul Z. Lee, "A Review of the Technical Challenges, Design Options, Highlights and Decisions on the DEP Seepage Meter Prototyping Efforts 2004-2008" Internal Circulation, FDEP, 2008 (all FDEP documents belong to public domain).
Paul Z. Lee, et al. "Delineation of Ground and Surface Water Areas Potentially Impacted by and Industrial Discharge to the Fenholloway River of Taylor County, Florida", State of Florida, Department of Environmental Protection Publication, Tallahassee, Florida 1995.