Faculty
Directory Details
[Return to Previous Listing]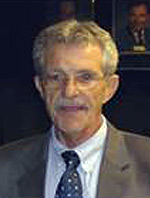 Mark Amen
Academic Director, Dr. Kiran C. Patel Center for Global Solutions, University of South Florida
Phone: (813) 974-6912
Fax: (813) 974-2522
Tampa, Florida 33620-8100
http://www.patelcenter.usf.edu/
Education:
Ph.D. Political Science, Universite de Geneve, 1978
Research Interests:
Issues of Globalization and of Political Economy
Globalizing Cities
Financial Markets, Credit, and Governance
Theories of Political Economy and International Relations
Publications List:
Mark Amen received his Ph.D. in Political Science from The Graduate Institute of International Studies in Geneva, Switzerland in 1978. He has been at USF as a faculty member in the Department of Government and International Affairs since 1982. His research interests are: issues of globalization and political economy, globalizing cities, governance and finance/credit, and theories of international relations. Dr. Amen teaches undergraduate and graduate courses in political economy, international relations theory, the European Union, and globalization. Since coming to USF, he has served as Director of the International Studies Program (1990-93), Chair of the University's Liberal Arts Committee (1991-1993), and Associate Dean for Academic Affairs in the College of Arts and Sciences (1993-2001). Outside of work, Mark enjoys playing golf, biking, classical music, movies, and traveling.