Faculty
Directory Details
[Return to Previous Listing]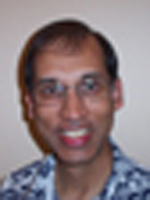 Pritish Mukherjee
Director, Center for Integrated Functional Materials, University of South Florida
Phone: (813) 974-3293
Fax: (813) 974-5813
Dept. of Physics (PHY 114)
College of Arts and Sciences
University of South Florida
4202 East Fowler Avenue
Tampa, FL 33620
http://labs.cas.usf.edu/lamsat/
Education:
Ph.D. Electrical Engineering, State University of New York at Buffalo, 1987
Research Interests:
Optical spectroscopy, time-of-flight and time-gated CCD imaging to investigate species resolved plasma plume dynamics. Application of spectroscopic techniques to pulsed laser ablation, plasma processes and laser-assisted spray processes to optimize film growth towards applications in organic/inorganic hybrid quantum dot based solar devices, super hard materials, thermoelectric materials, magnetic and multiferroic materials, and superconductors.
Publications List:
Published more than 50 Journal papers and Proceedings.