Faculty
Directory Details
[Return to Previous Listing]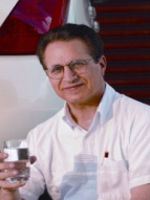 Elias Stefanakos
Director, Clean Energy Research Center, University of South Florida
Phone: (813) 974-4413
Fax: (813) 974-2050
Clean Energy Research Center
College of Engineering
4202 East Fowler Avenue
ENB118
Tampa, FL 33620
Education:
Ph.D. Engineering Science, Washington State University, 1969
Research Interests:
Solar Energy Conversion (Photovoltaics, Solar Thermal, Rectennas, etc.), Hydrogen Production and Storage Energy Systems, Electric/Hybrid Vehicles.
Publications List:
Dr. Elias Stefanakos is presently Professor of Electrical Engineering and Director of the Clean Energy Research Center (CERC) at the University of South Florida (USF) located in Tampa, Florida, USA. Up to August 2003 and he was Chairman of the Department of Electrical Engineering at USF. He has published one book, two book chapters, four patents and over 130 research papers in refereed journals and international conferences in the areas of photovoltaic materials, solar energy sources and systems, hydrogen production and storage, and electric and hybrid vehicles. He has received over $14 million in contracts and grants from agencies such as, National Science Foundation (NSF), US Department of Energy (USDOE), National Aeronautics and Space Administration (NASA), Defense Advanced Research Projects Agency (DARPA), and others. He has been a consultant to a number of companies and international organizations. CERC is an interdisciplinary center whose mission is the development of clean energy sources and systems with emphasis on technology development and technology transfer.