Faculty
Directory Details
[Return to Previous Listing]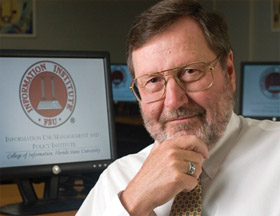 Charles McClure
Director, Information Use Management and Policy In, Information Use Management and Policy Institute, Florida State University
Phone: (850) 644-8109
Fax: (850) 644-4522
College of Information, Florida State University
Louis Shores Building, Room 226
Tallahassee, Florida 32306-2100
http://www.ii.fsu.edu/~cmcclure/
Education:
Ph.D. Library and Information Services, Rutgers University
Research Interests:
As Director of the Information Use Management and Policy Institute at Florida State University http://www.ii.fsu.edu/ he and the Institute staff work on a range of funded research projects, promote interdisciplinary research efforts at the university and with other organizations, and actively participate in various information policy debates and initiatives at the state and federal level. The Information Institute, founded in 1999, provides a highly visible and active research arm of the College of Information. Between 1999 and 2006 the Information Institute has received some $4.3 million in funded research.
Publications List:
A Meta-Assessment of Statewide Program Evaluations: Matching Evaluation Methods to Program Goals, in S. Hiller et. al, editors, Proceedings of the Library Assessment Conference: Building Effective, Sustainable, Practical Assessment (conference held August 4-6, 2008, Seattle). Washington, D.C. Association of Research Libraries (with Others). Available only online at: http://libraryassessment.org/bm~doc/proceedings-lac-2008.pdf
Public Libraries and Internet Service Roles: Measuring and Maximizing Internet Services (with Paul T. Jaeger). Chicago: American Library Association. More information
McClure, C. R., & Jaeger, P. T., Government information policy research: Importance, approaches, and realities
Library & Information Science Research (2008): 1-8.
Bertot, J.C., McClure, C. R., & Jaeger, P. T., Public libraries and the Internet 2007: Issues, implications, and expectations
Library & Information Science Research (2008): 175-184.
The Impacts of Free Public Internet Access on Public Library Patrons and Communities
Library Quarterly, vol 78 (3): 285-301
LIS 5270/6919: Evaluating Networked Information Services and Systems.
Methodological Problems and Solutions in Evaluating Remote Reference Service: A Practical Guide. Portal: Libraries and the Academy, in press (with others).
Learning and Using Evaluation: A Practical Introduction, in Brooke Sheldon, ed., The Portable MLIS: Insights from the Experts. Westport, CT: Libraries Unlimited (pp. 179-192).
Citizen-centered E-Government Services: Benefits, Costs, and Research Needs. Montreal: Proceedings of the Digital Government Conference.