Faculty
Directory Details
[Return to Previous Listing]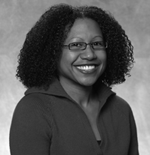 Maya Trotz
Associate Professor, Civil & Environmental Engineering, University of South Florida
Phone: (813) 974-3172
Fax: (813) 974-9106
Civil and Environmental Engineering
4202 East Fowler Avenue
ENB118
Tampa, FL 33620
http://www2.eng.usf.edu/cee/facultyAndStaff/mayaTrotz.htm
Education:
Ph.D. Civil Engineering, Stanford University
Research Interests:
My long term research goal is to apply the understanding of mineral oxide surfaces to the solution of environmental problems. Research interests include, but are not limited to heavy metal fate in the subsurface environment, and the development of innovative technologies for the treatment of contaminated waters. I have an ongoing interest in multidisciplinary projects that encourage sustainable development and provide affordable and efficient technology to developing countries, especially with respect to improving water quality and reducing the incidence of water borne diseases and water related diseases and other health complications. I believe in holistic approaches to providing engineering solutions which incorporate women's perspectives and needs and which build local capacity. I grew up in Guyana, the only english speaking country in South America with a culture more similar to the Caribbean islands. The challenges the country faced and still faces with respect to the provision of electricity and clean water to its citizens motivated me to pursue an engineering degree at MIT. The development of OMAI gold mines in the early 1990's followed by one of the largest tailings pond failures in 1995 solidified my interest in environmental contamination and the surface/water interface.
Publications List:
Trotz, M.; Prasad, A.; Leckie, J. O. (2006) Experimental investigation and TLM modeling of the equilibrium sorption behavior of As(V) and As(III) on ALCOA DD660. In Preparation.
Trotz, M. A.; Prasad, A.; Leckie, J. O. (2006) An experimental and modeling study of the effect of competing anions (sulfate, phosphate, silicate, carbonate) on the equilibrium sorption behavior of As(V) and As(III) on activated alumina. In Preparation.
Villalobos, M.; Trotz, M. A.; Leckie, J. O. (2003) Variability in goethite surface site density: evidence from proton and carbonate sorption. Journal of Colloid and Interface Science, 268 (2).