Faculty
Directory Details
[Return to Previous Listing]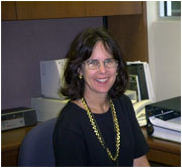 Debra Reinhart
Assistant VP for Research and Professor, Office of Research and Commercialization and Department of Civil, Environme, University of Central Florida
Phone: (407) 823-2315
Fax: (407) 882-1156
4000 Central Florida Blvd
Millican Hall 243
Orlando, Florida 32816
http://www.cece.ucf.edu/people/reinhart/index.asp
Education:
Ph.D., Environmental Engineering Georgia Tech, 1989
Research Interests:
Solid Waste Management, Landfill Bioreactor, Environmental Applications of Ferrate, Waste Characteristics, Hazardous Waste Management, Chlorinated Solvent Destruction in the Subsurface
Publications List:
Berge, N. B, Debra R. Reinhart, John D. Dietz, and Tim Townsend (2007) "The Impact of Temperature and Gas-Phase Oxygen on Kinetics of In-Situ Ammonia Removal in Bioreactor Landfill Leachate," Water Research (accepted for Publication).
Faour, A., D. R. Reinhart, and H. You, (2007) "First-Order Gas Generation Model Parameters for Wet Landfills," Waste Management (Accepted for Publication).
Imhoff, P.T. Debra R. Reinhart, Marja Englund, Roger Guérin, Nitin Gawande, Byunghyun Han, Sreeram Jonnalagadda, Timothy G. Townsend, Ramin Yazdani, "Review Of State Of The Art Methods For Measuring Water In Landfills," (2007) Waste Management, in press.