Faculty
Directory Details
[Return to Previous Listing]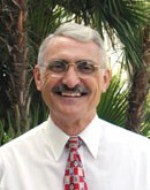 George Maul
Professor and Head, Department of Marine and Environmental Systems, College of Engineering, Florida Institute of Technology
Phone: (321) 674-7450
Edwin A Link, 113
150 W. University Blvd
Melbourne, Florida 32901
http://www.fit.edu/faculty/profiles/profile.php?tracks=gmaul
Education:
Ph.D. University of Miami
Research Interests:
Dr. Maul's current research interests include quantifying the impact of climate and global change on society, establishing operational forecasts of coastal ocean circulation, particularly in the Gulf of Mexico and Caribbean Sea, developing an integrated global sea-level/weather network for climate studies and sustained economic development, designing the Intra-Americas Sea Tsunami Warning System, and satellite altimetry research. His most recent book, published by the American Geophysical Union in 1996, Small Islands: Marine Science and Sustainable Development, reports the deliberations of a United Nations conference on the role of ocean and climate change on the sustainable economic development of small island developing states. Selected areas of research include:
Dynamics of ocean surface currents from satellite altimetry and numerical circulation models
Quantifying climate and sea-level change from coastal tide gauge/weather stations
Tsunami and other natural hazards in the Intra-Americas Sea
Earth system science education
Publications List:
Proenza, X.W., and G.A. Maul. Tsunami Hazard and Total Risk in the Caribbean Basin. Science of Tsunami Hazards , 29(2), pp: 70-77.
Maul, G.A., and H.J. Sims, 2007. Florida Coastal Temperature Trends: Comparing independent datasets. Florida Scientist, 70(1), pp: 71-82.
Maul, G.A., 2005. Small Islands. In: M. Schwartz (editor), Encyclopedia of Coastal Science, Kluwer Academic Publishers, Dordrecht, pp: 883-888.
Maul, G.A., 2003. Ocean Wind System. In: Interdisciplinary Encyclopedia of Marine Sciences, Grolier Academic Reference, Danbury, pp: 400-406.
Maul, G.A., A.M. Davis and J.W. Simmons. 2001. Seawater Temperature Trends at USA Tide Gauge Sites. Geophy. Res. Lett., 28(20): 3935-3937.