Faculty
Directory Details
[Return to Previous Listing]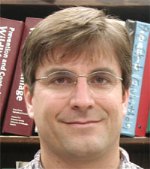 Mark Hostetler
Associate Professor, Wildlife Ecology and Conservation, University of Florida
Phone: (352) 846-0568
215 Newins-Ziegler Hall
Gainesville, FL 32611
http://www.wec.ufl.edu/faculty/hostetlerm/
Education:
Ph.D. Zoology, University of Florida, Gainesville, FL
Research Interests:
Mark has over ten years of experience in urban wildlife issues and landscape management, with a special emphasis on working with homeowners, developers, and policymakers on ways to manage and design residential developments for wildlife. In particular, he is developing educational programs that will help homeowners manage their yards and neighborhoods for wildlife. He has published in Landscape and Urban Planning, Urban Ecosystems, and has several book chapters on urban design and its effect on wildlife. Currently, Mark and his graduate students are working with several developers to establish wildlife management strategies in communities that are billed as "green" developments. Mark's experience and research focus includes:
The effects of urban landscape design on wildlife distributions from small to large scales
Residential community design and management for wildlife
Environmental education programs for residential communities
Publications List:
Hostetler, M., Allen, W., and C. Meurk. 2011. Conserving urban biodiversity? Creating green infrastructure is only the first step. Landscape and Urban Planning. doi:10.1016/j.landurbplan.2011.01.011.
Kipp, J. M., Lathrop, C. E., Hostetler, M., Clark, M. W., and P. H. Jones. 2011. Implementing low impact development in Florida: practitioners' perspectives. Florida Watershed Journal 4(1): 12-18.
Hostetler, M.E. 2010. Beyond design: the importance of construction and post-construction phases in green developments. Sustainability 2:1128-1137
Wald, D., and M.E. Hostetler. 2010. Value of residential open space: designation and management language of Florida's land development regulations Sustainability 2(6): 1536-1552.
Hostetler, M.E., and M. Main. 2010. Tips to create biodiverse, urban communities. Journal of Extension 48/5.