Faculty
Directory Details
[Return to Previous Listing]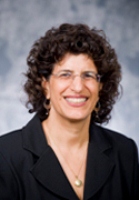 Serina Ergas
Associate Professor and Graduate Program Coordinat, Civil & Environmental Engineering, University of South Florida
Phone: (813) 974-1119
Fax: (813) 974-2957
4202 E. Fowler Avenue
Tampa, FL 33620-5350
http://www2.eng.usf.edu/cee/facultyAndStaff/sarinaErgas.htm
Education:
Ph.D. Civil Engineering, University of California, Davis
Research Interests:
Dr. Sarina J. Ergas is an associate professor of Civil & Environmental Engineering at the University of South Florida. She has over twenty years experience conducting bench, pilot and modeling studies of biological treatment processes. Recent projects include bioremediation of acid mine drainage sites, treatment of contaminated groundwater using sulfur utilizing perchlorate reducing bacteria, treatment of ion exchange brines, use of membrane biofilm reactors for biological air pollution control and hydrogenotrophic denitrification, use of low impact development technologies for removal of nutrients from stormwater runoff and wastewater treatment and biofuel generation using algae. Dr. Ergas is a 2007 Fulbright Fellow at the Technion Israel Institute of Technology and a1995 ASCE Excellence in Civil Engineering Education (ExCEEd) Fellow. She teaches classes in environmental engineering, including Environmental Engineering Systems, Biological Principles, Air Quality for Environmental and Transportation Engineers and Environmental/Water Resources Capstone. Dr. Ergas is a registered professional engineer in the Commonwealth of Massachusetts.
Publications List:
Ergas, S.J., Sengupta, S., Siegel, R., Yao, Y., Pandit, A., Yuan, X. (2010) Denitrifying bioretention systems for control of non-point nitrogen sources, J. Environmental Engineering-ASCE, 136(10): 1105-1112.
Kumar, A., Yuan, X., Sahu, A.K., Zhang, Q., Ergas, S.J., Malcata, F. X., Van Langenhove, H. (2010) Strategies for CO2 sequestration using microalgae and cyanobacteria: Recent developments and future directions, Trends in Biotechnology, 28(7): 371-380.
Sahu, A.K., Conneely, T., Nüsslein, K., Ergas, S.J. (2009) Biological perchlorate reduction in packed bed reactors using elemental sulfur, Environmental Science & Technology, 43(12):4466–4471.
Becerra, C.A., López-Luna, E.L., Ergas, S.J., Nüsslein, K. (2009) Microcosm-based study of the attenuation of an acid mine drainage-impacted site through biological sulfate and iron reduction, Geomicrobiology J., 26(1):9-20.
Min, K-N, Ergas, S.J., Mermelstein, A. (2008) Impact of dissolved oxygen concentration on membrane filtering resistance and soluble organic compound characteristics in MBRs, Water Science & Technology, 57(2):161-165.