Faculty
Directory Details
[Return to Previous Listing]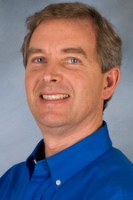 Joseph W. Walters
Thermal Test Center Manager, Solar Energy Research/FSEC, University of Central Florida
Phone: (321) 638-1438
Fax: (321) 638-1010
http://www.fsec.ucf.edu/people/bios/Walters.htm
Education:
BS, Microelectronic Engineering, Rochester Institute of Technology
Research Interests:
Joe Walters joined the University of Central Florida's Florida Solar Energy Center in August of 2008. Prior to joining FSEC, he was the president of the energy consulting business Renewable Now, LLC. In that position he partnered with Florida solar contractors providing solar design work, project management, marketing and sales support. In that two year period he was responsible for
Winning a coveted Florida Renewable Energy and Energy-Efficient Technologies Grant for solar thermal "Telling the Compelling Story"
Winning contracts with a major utility for installing solar PV under the SunSmart School program.
Winning a contract to install PV on UCF's Engineering building.
Article publication in Green Trends magazine.
Prior to Renewable Now, Mr. Walters rose to the position of Eastern Region Field Process Manager with Lam Research Corporation. Lam Research, at the time, was the world leader in plasma etch equipment manufacturing. In his role Joe had several years of customer service experience in the field. He provided on site support to his customers developing improvement in process, quality, yield and overall efficiency. As the semiconductor manufacturing business spread globally his duties included Staff Engineering duties to solve technically difficult processing problems around the globe. His interest in energy, specifically renewable energy, led him to become a Florida certified Energy Rater and a Certifying Agent with the Florida Green Building Coalition. He is the invention holder of two patents.