Faculty
Directory Details
[Return to Previous Listing]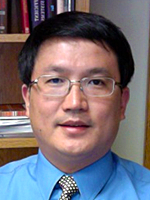 Zhixin Miao
Assistant Professor, Electrical Engineering, University of South Florida
Phone: (813) 974-4237
4202 E. Fowler Avenue
ENC 2503
Tampa, FL 33620-5350
http://ee.eng.usf.edu/faculty&staff/faculty_miao.htm
Education:
Huazhong University of Science and Technology, West Virginia University
Research Interests:
Smart grid automation, electric power system modeling and simulation, microgrid technologies to integrate renewable energy and energy storage, and power market.
Publications List:
Z. Miao, A. Domijan, and L. Fan, "Investigation of Microgrids with Both Inverter Interfaced and Direct AC Connected Distributed Energy Resources," IEEE Trans. Power Delivery, vol. 26, no. 3, pp. 1634-1642, July 2011.
Z. Miao, A. Domijan, and L. Fan, "Negative Sequence Compensation for Unbalance in Distributed Energy Resources Interfacing Inverters," International Journal of Power and Energy Systems (accepted).
Z. Miao, and L. Fan, "The Art of Modeling High-Order Induction Generator in Wind Generation Applications," Simulation Modelling Practice and Theory, vol. 16, no. 9, Oct. 2008.
Z. Miao, L. Fan, D. Osborn, and S. Yuvarajan, "Control of DFIG based Wind Generation to Improve Inter-Area Oscillation Damping," IEEE Transactions on Energy Conversion, vol. 24, no. 2, pp. 415-422, June 2009.
Z. Miao, L. Fan, D. Osborn, and S. Yuvarajan, "Wind Farms with HVDC Delivery Inertial Response and Load Frequency Control," IEEE Trans. on Energy Conversion , vol. 25, no. 4, pp. 1171-1178, Dec. 2010.