Faculty
Directory Details
[Return to Previous Listing]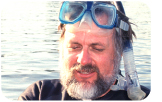 Dennis Hanisak
Research Professor & Director, Center of Marine Ecosystem Health, Florida Atlantic University
Phone: (772) 465-2400ext. 306
Harbor Branch Oceanographic Institute at Florida Atlantic University
5600 US 1 North
Fort Pierce, FL 34946
http://www.fau.edu/hboi/ProjectManagers/DennisHanisak/dhhome.php
Education:
1977 Ph.D., Biological Sciences, University of Rhode Island
Research Interests:
M. Dennis Hanisak is a Research Professor at Harbor Branch, Director of its Center for Marine Ecosystem Health, and Director of Education. He has 30 years of experience in marine biology and ecology, with emphasis on marine plants, particularly macroalgae (seaweeds) and seagrasses. He has worked at Harbor Branch since 1977, conducting research on marine plants in the Indian River Lagoon and in other parts of Florida, the Bahamas, and the Caribbean.
Dr. Hanisak is the author of over 70 scientific publications, a frequently invited participant at national and international meetings and workshops, a past President of the International Phycological Society, and a past President and Chairman of the Board of Trustees of the Phycological Society of America.
Research in his lab currently focuses on determining the relationships of water quality with seagrass and with algal communities (both benthic seaweeds and phytoplankton) in the Indian River Lagoon and understanding and preventing losses in shallow and deep water coral communities that result from both natural and anthropogenic causes.