Faculty
Directory Details
[Return to Previous Listing]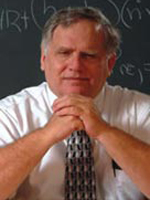 Herbert A. Ingley
Associate Professor, Mechanical and Aerospace Engi, University of Florida
Phone: (352) 392-9929
Fax: (352) 392-1071
Mechanical and Aerospace Engineering 223B, MAEB
P.O. Box 116300, Gainesville, Florida 32611-6300
Education:
Ph.D. Mechanical Engineering, University of Florida, 1971
Research Interests:
Ingley, as the Chief Executive Officer of a 30-person engineering firm, functioned as project manager and lead mechanical engineer for over 700 engineering projects for the time period 1983- 2002. These projects included the design of building systems for institutional buildings, energy studies, energy conservation measures design services, performance contracting consulting services, utility master planning, forensic consulting and prototype design and development for inventors. During this tenure, Ingley conducted over 500 comprehensive technical energy studies for several institutions in the State of Florida. These studies included recommendations for the implementation of alternative energy sources as well as innovative air conditioning strategies. Ingley also conducted similar studies for multiple United States Department of Agriculture laboratory facilities located in the Southeast United States.

As a researcher during the 1973-1983-time period, Ingley conducted extensive experimental- based research at the University of Florida Solar Energy and Energy Conversion Laboratory. The topics of this research included solar powered heating and air conditioning systems, absorption air conditioning, energy conserving building technology, IAQ and energy considerations in the design and construction of modular housing, solar fenestration studies. While on a joint appointment with the College of Veterinary Medicine, Ingley conducted extensive research on factors affecting laboratory animals. This work included the study of temperature, humidity, air velocity, mean radiant temperature and noise on the stability of laboratory animals in typical housing facilities. The work also addressed the trans-cage and room-cage coupling effects in cage racks for laboratory rodents.

Since returning to full-time status, Ingley has continued his research in the fields of energy systems, HVAC and indoor air quality. His specific areas of research involve the production of hydrogen using alternative energy sources, fuel cell performance and laboratory environmental monitoring.