Faculty
Directory Details
[Return to Previous Listing]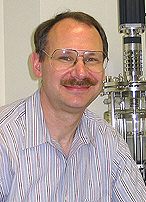 Jon Stewart
Professor, Departments of Chemistry and Biomedical Engineering, University of Florida
Phone: (352) 846-0743
Fax: (352) 846-0743
126 Sisler Hall
University of Florida
Gainesville, FL 32611
http://www.chem.ufl.edu/~jds2/
Education:
Ph.D., 1991, Cornell University; B.S., M.S. 1986, 1987, Bucknell University
Research Interests:
Enzymes as practical catalysts for organic synthesis.

We are developing methods to employ cofactor-dependent enzymes in stereoselective synthesis. We have successfully completed biocatalytic routes to several natural products and continue to expand our synthetic toolbox. Learn more...
Smart, self-disassembling nanostructures for drug delivery. In collaboration with research teams in the Department of Chemistry (Martin) and Anesthesiology (Dennis, Melker and Rogers), we have prepared and covalently capped hollow nano test tubes with nano corks. We are now learning how to load and target these structures, then uncap them so that their cargo can be released inside cells. Learn more...

Understanding a key enzyme in starch biosynthesis. The economic value of many crops such as corn is directly related to starch content. In collaboration with a group in Plant Molecular and Cellular Biology (Hannah), we are learning how catalysis in this four-subunit enzyme is carried out and regulated in response to cellular conditions. Learn more...
Publications List:
Site Saturation Mutagenesis of Tryptophan 116 of Saccharomyces pastorianus Old Yellow Enzyme Uncovers Stereocomplementary Variants. S.K. Padhi, D.J. Bougiokou and J.D. Stewart, J. Am. Chem. Soc. 20Site Saturation Mutagenesis of Tryptophan 116 of Saccharomyces pastorianus Old Yellow Enzyme Uncovers Stereocomplementary Variants. S.K. Padhi, D.J. Bougiokou and J.D. Stewart, J. Am. Chem. Soc. 2009, 131, 3271-3280.
Probing Allosteric Binding Sites of the Maize Endosperm ADP-glucose Pyrophosphorylase. S.K. Boehlein, J.R. Shaw, L.C. Hannah and J.D. Stewart, Plant Physiol. in press.
Studies of the Kinetic Mechanism of Maize Endosperm ADP-Glucose Pyrophosphorylase Uncovered Complex Regulatory Properties. S.K. Boehlein, J.R. Shaw, J.D. Stewart and L.C. Hannah, Plant Physiol. in press.09, 131, 3271-3280