Faculty
Directory Details
[Return to Previous Listing]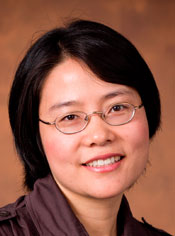 Zhaohui Tong
Assistant Professor, Department of Agricultural and Biological Engineering, University of Florida
Phone: (352) 392-1864ext. 103
Fax: (352) 392-4092
103 Frazier Rogers Hall, PO Box 110570 Gainesville, FL 32611
http://abe.ufl.edu/people/directory/faculty-profiles/tong-zhaohui.shtml
Education:
* Ph.D. Chemical Engineering, Georgia Institute of Technology 2007 * M.S. Chemical Engineering, Georgia Institute of Technology 2005 * M.S. Pulp and Paper Engineering, Tianjin University of Science and Technology, China 2001 * B.S. Pulp
Research Interests:
Synthesis of Polyurethane film from Renewable Biomass: Developed a liquefied, renewable biomass (wheat straw) using ethylene carbonate (EC) and then applied this purified liquefied product to synthesize polyurethane film.
Synthesis, Characterization and Application of Water-Based Latex of Biodegradable Polymer Nanoclay Composite: created a method to synthesize polymer encapsulated nanoclay composite latex via miniemulsion polymerization and explored its potential application in biodegradable barrier coating. The encapsulation of nanoclay inside polymer particles can dramatically improve the composite properties such as mechanical strength, thermal stability, and barrier properties.