Faculty
Directory Details
[Return to Previous Listing]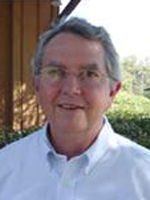 Pierce Jones
Director, Program for Resource Efficient Communiti, University of Florida
Phone: (352) 392-8074
Fax: (352) 392-9033
P. O. Box 110940, Gainesville, Florida, 32611
Education:
Ph.D. Mechanical Engineering, University of Florida, Gainesville, FL, 1980
Research Interests:
Dr. Jones is the Director of the recently established Program for Resource Efficient Communities, an interdisciplinary group that promotes the adoption of "best design, construction and management practices" in new residential master planned developments that measurably reduce energy and water consumption and environmental degradation. The Program offers direct training and consulting services, conducts applied research and develops case studies, supports related academic courses and degree programs, and partners with "green" certification programs.

Dr. Jones also directs the Florida Energy Extension Service that operates as an entrepreneurial group producing, marketing and delivering continuing education programs on the Florida Building Code and resource efficient construction. He coordinated development of Build Green & Profit, a 14-hour, highly interactive, continuing education program designed and approved for presentation to licensed Florida contractors, architects and others. Last year over 100 courses were presented to ~2,000 attendees. Through these programs, the University of Florida encourages the supply, demand and financing of more resource efficient homes.

Dr. Jones directs applied research projects and the development of training programs with grants from US DOE, FEMA, Florida Department of Community Affairs, St. Johns River Water Management District, Southwest Florida Water Management District and others. He also actively partners with Audubon International, Energy Star®, Building America, HUD's Partnership for Advancing Technology in Housing (PATH), USGBC and the Florida Green Building Coalition in promoting resource efficient residential communities.