Faculty
Directory Details
[Return to Previous Listing]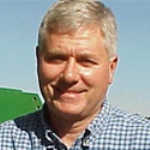 David Wright
Professor, University of Florida
Phone: (850) 875-7119
Fax: (850) 875-7188
North Florida Research & Education Center 155 Research Rd.
Quincy, FL 32351-5677
http://nfrec.ifas.ufl.edu/contact/DavidWright.shtml
Education:
B.S., Agronomy, Tennessee Technological University. M.S., Soil Chemistry, Virginia Polytechnic Institute. Ph.D., Forage Physiology, Virginia Polytechnic Institute & State University
Research Interests:
Cropping systems and conservation tillage techniques. Emphasis has been on sod based rotations and economic and environmental advantages of using this approach.
Publications List:
Acuna, C. A., A. R. Blount, et al. (2010). "Bahiagrass Tetraploid Gemplasm: Reproductive and Agronomic Characterization of Segregating Progeny." Crop Science 49: 581- 588.
Acuna, C. A., A. R. Blount, et al. (2010). "Tetraploid bahiagrass hybrids: breeding technique, genetic variability and proportion of heterotic hybrids." Euphytica on-line publication 10-2010. DOI 10.1007/s10681-010-0276-y.
Acuna, C. A., T. R. Sinclair, et al. (2010). "Potential root depth developmentand nitrogen uptake by tetraploid bahiagrass hybrids."Plant and Soil 334: 491-499.
Alghamdi, A., B. Funnell, et al. (2010). "Comparative studies on bull and stallion seminal DNase activity and interaction with semen extender and spermatozoa." Anim Reprod Sci 121(3-4): 249-258.
Amin, M., R. F. Mizell, et al. (2010). "Response of the predatory mite Phytoseiulus macropilis banks (Acari: Phytoseiidae) to pesticides, kairomones of three spider mite species (Acari: Tetranychidae) and non-prey food." Fla. Entomol. In Press.
Andersen, P., B. Brodbeck, et al. (2010). "Assimilation efficiency of free and protein amino acids by the glassy-winged sharpshooter,Homalodisca vitripennis (Germar) (Hemiptera: Cicadellidae: Cicadellinae) feeding on Citrus sinensis and Vitis vinifera." Fla. Entomol. 92(1): 116-112.