Faculty
Directory Details
[Return to Previous Listing]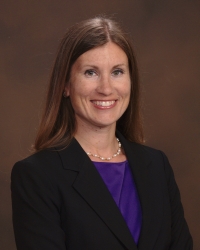 Laura Sanagorski
Assistant Professor, Department of Agricultural Education and Communication, University of Florida
Phone: (352) 273-0202
117 Bryant Hall
PO Box 112060
Gainesville, FL 32611


http://aec.ifas.ufl.edu/contact/faculty/laura_Sanagorski.shtml
Education:
Texas A&M University, Ed.D., Agricultural Leadership, Education, and Communications, 2012 University of Florida, M.S., Environmental Horticulture, 2006
Research Interests:
Dr. Laura Sanagorski is an assistant professor of social marketing and program evaluation in the Department of Agricultural Education and Communication at the University of Florida. Her appointment supports the Center for Landscape Conservation and Ecology (CLCE) in IFAS by promoting sustainable landscape management practices to urban audiences and evaluating the impact of CLCE programs. Dr. Sanagorski's research focuses on understanding attitudes and values and how they relate to sustainable natural resource management in horticulture and agriculture. A horticulturist, arborist, and past Extension agent, she earned Bachelors and Masters degrees from the University of Florida and her doctorate from Texas A&M and Texas Tech Universities. Dr. Sanagorski's Extension program focuses on sustainable landscaping and agriculture by supporting statewide Extension programming through the use of program evaluation and social marketing principles.
Publications List:
Recent Publications
Sanagorski, L. (In Press). "Virtual Focus Groups in Extension: A Useful Approach to Audience Analysis". Journal of Extension.
Sanagorski, L. (In Press). "Using Prompts in Extension: A Social Marketing Strategy for Encouraging Behavior Change". Journal of Extension.
Sanagorski, L., & Fitzpatrick, G. E. (In press). "Introducing tree structural defect recognition to youth: An exploration of feasibility through a comparison of two teaching methods." HortTechnology, 24(1).
Sanagorski, L., Murphrey, T., Baker, M., Lawver, D., & Lindner, J. (In Press). "Measuring Florida extension faculty's agricultural paradigmatic preferences". Journal of Agricultural Education.
Sanagorski, L., Murphrey, T., Baker, M., Lawver, D., & Lindner, J. (2013). "Measuring agricultural paradigmatic preferences: the redevelopment of an instrument to determine individual and collective preferences: a pilot study". Journal of Extension, 51(5).
EDIS Publications