Faculty
Directory Details
[Return to Previous Listing]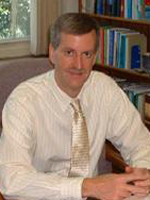 David Sappington
Eminent Scholar, Department of Economics, University of Florida
Phone: (352) 392-3904
P.O. Box 117140, Matherly Hall
Gainesville, FL 32611-7140
http://bear.cba.ufl.edu/sappington
Education:
Ph.D., Economics, Princeton University, 1980
Research Interests:
Professor Sappington's research analyzes the design of regulatory policy in the telecommunications, energy, and health care industries. His research focuses on the design of incentive regulation in settings where regulated firms have better information than the regulator about industry conditions.

Professor Sappington is the Director of the Public Policy Research Center (PPRC) at the University of Florida. PPRC supports innovative research on issues related to public policy.

The Robert F. Lanzillotti Public Policy Research Center, Warrington College of Business
The principal goal of the Robert F. Lanzillotti Public Policy Research Center (PPRC) is to foster high-quality, independent research that ultimately improves the design of sound, effective public policy in Florida and elsewhere. The insights developed through creative, objective public policy research can provide useful guidance to current policy-makers, and can help to better inform future generations of business and policy leaders.

Independent, university-based research can help policy makers in Florida and elsewhere to clarify issues, identify relevant trade-offs, and develop policy options that may ultimately benefit all citizens. PPRC focuses its research in its primary areas of expertise. These areas include antitrust, education, the environment, health care, international economics, regulation, and tax policy.

PPRC works to foster high quality research and the dissemination of research findings in many ways. PPRC sponsors conferences on important public policy issues, finances seminars by leading researchers and policy-makers, funds collection of vital data, and supports promising public policy research by outstanding graduate students.