Faculty
Directory Details
[Return to Previous Listing]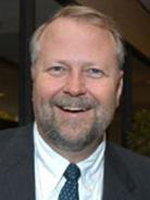 John Schert
Executive Director, Bill Hinkley Center for Solid, University of Florida
Phone: (352) 392-6264
Fax: (352) 846-0183
Bill Hinkley Center for Solid and Hazardous Waste Management 4635 NW 53rd Ave., Suite 205 Gainesville, FL 32653-3418
Education:
Honorary Doctor of Science, Heidelberg College, 2004; Master of Science, University of Florida, 1979
Research Interests:
• Protection and conservation of natural resources (air, surface water, groundwater and soil).

• Proper management of solid waste, hazardous materials and hazardous waste.

• Environmental education.

Emphasis: Solid and hazardous waste management.

Mr. Schert works closely with the Florida Department of Environmental Protection, local government, business and industry to provide timely and practical solutions to the state's waste management problems.

Mr. Schert is a member of the Tau Beta Pi Engineering Honor Society and received a graduate fellowship from the United States Environmental Protection Agency. He was the President of the Florida Local Environmental Resource Association in 1988, 1989 and 1990. He is an avid photographer.