»
/
Educational Programs and Workshops
Educational Programs and Workshops
Duke Energy Academy at Purdue 2015 – Purdue University is seeking to identify 42 secondary teachers and 42 high school (jr/sr) students for the Duke Energy Academy at Purdue 2015. This is a one week immersive program designed to develop the next generation of thought leaders in Energy. The event will take place from June 21 to June 27, 2015 at Purdue University West Lafayette campus. The program covers all expenses except travel to/from West Lafayette.
The Florida Energy Workforce Consortium would like to identify Florida candidates that can be considered for participation. Please apply or have your students register by January 18, 2015 if you are interested. Please also email FEWC at fewc.exec@gmail.com if you or your students apply.
Continuing Education – The Program for Resource Efficient Communities at UF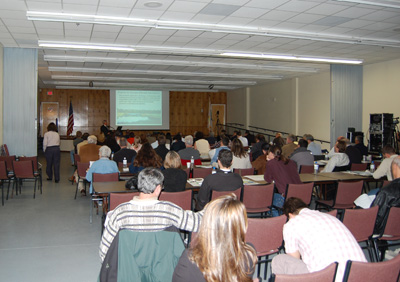 develops and delivers continuing education for built environment professionals. Build Green & Profit is a 14-hour program comprised of topical modules related to residential construction. Since the original program was first offered in 1996, it has been presented more than 200 times to 5,000 licensed professionals (contractors, architects, building officials and engineers). In support of the original materials more than sixty hours of additional modules have been developed and presented covering a range of topics. We plan to redevelop the modules to cover Florida House Bill 697 and present the practical energy efficiency upgrades required to meet the new sequential upgrades to the Florida Building Code. Materials to be developed with Florida Solar Energy Center at UCF
Certification Programs – The Florida Green Building Coalition (FGBC) and the US Green Building Council (USGBC) have developed "green" certification programs for application to homes, commercial buildings, developments and local governments. Governments and utilities rely on these certifications as independent, third-party programs that can be linked to energy efficiency requirements/incentives as in the Florida Energy Bill (House Bill 7135). We plan to collaborate with the FGBC and local Florida chapters of USGBC to develop educational programs that describe and support their certification programs. In addition we plan to logistically support statewide presentation of these programs utilizing volunteer members of these organizations as presenters.
SAVE: Steps in Achieving Viable Energy
Part of Florida 4-H Youth Development, this project takes youth on a journey through the exciting world of energy. Youth start the journey by learning about what energy is, the different forms and how it is transformed from one form to another. You can investigate various ways energy is used, both natural and man-made processes. Finally, the journey concludes with how the world is impacted, both positively and negatively by our energy use.
Alachua County Public Schools Energy Conservation Program
Located in the heart of North Central Florida, Alachua County Public Schools educates more than 27,000 students and employs more than 4,000 people across a combined floor space of more than 4 million square feet. The district envisions all students graduating with the knowledge, skills, and personal characteristics to be lifelong learners and independent thinkers. Sustainability is a core value for the district. Alachua school board passed a green resolution confirming their commitment to sustainability, and the district hired an Energy Conservation Specialist in 2011 to provide educational support and assistance with meeting district- wide energy and water conservation goals. Alachua County Public Schools has been an ENERGY STAR Partner since 2013.
Every employee and student in the school district is fundamental to the success of conserving energy within Alachua County Public Schools. The IT Department monitors and shuts down over 14,000 district computers daily, and the Facilities Department is involved in day to day maintenance, including BAS operations for the entire district. A team effort allows the district to plan new ways to save resources and energy on future projects. Compared to its 2006 baseline, the district currently prevents the emissions of more than 6,900 metric tons of greenhouse gas emissions annually, which is equivalent to the carbon sequestered by more than 177,000 tree seedlings planted and grown for 10 years. (Information obtained from this website.)