2012 Poster Session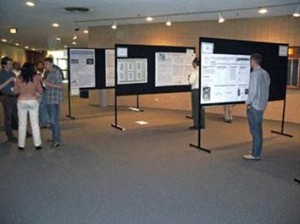 2012 FLORIDA ENERGY SUMMIT POSTER SESSION
LIST OF POSTERS
Florida Atlantic University
1. "Design Challenges of the Florida Current"
Participants: H. P. Hanson, A. M. Smentek-Duer, and J. H. Van Zwieten
Florida State University
2. "Clean Energy Policies of the Municipal-Owned Utilities – The Role of Smart Grid"
Participant: Z. R. Siddiqui
3. "PV and Load Variability in Florida"
Participants: R. Meeker, A. Springstroh, D. K. Click, H. Moaveni, K. O. Davis, B. Reedy, A. Pappalardo, and R. Krueger
4. "High Penetration PV Circuit Analysis and Results"
Participants: H. Ravindra, M. O. Faruque, K. Schoder, M. Steurer, P. McLaren, and R. Meeker
5. "Developing a Reduced Model of the Florida Transmission Grid"
Participants: J. Langston, M. Steurer, O. Faruque, P. McLaren, R. Meeker, K. Schoder, T. Baldwin, and S. Dale
University of Central Florida
6. "Effect of Processing Conditions on the Development of CuIn1-xGaxSe2-ySy (CIGSeS) and CuIn1-xGaxSe2 (CIGS2) Thin Film Absorbers"
Participants: A. Kaul, E. Schneller, N. Shiradkar, and N. G. Dhere
7. "Solar Energy Collection on a Spherical Surface"
Participants: K. Lin and W. Deng
8. "Clustering and Cooperative Control of Distributed Generators for Maintaining Microgrid Unified Voltage Profile and Complex Power Control"
Participants: A. Maknouninejad and Z. Qu

University of Florida
9. "Providing Ancillary Services to the Grid for Increased Renewable Penetration by Using Flexible HVAC Power Consumption in Existing Commercial Buildings"
Participants: S. Meyn and P. Barooah
10. "High Efficiency Inverted Dithienogermole-Thienopyrrolodione Based Polymer Solar Cells"
Participants: C. E. Small, S. Chen, T. Lai, S. Tsang, F. So, and J. R. Reynolds
11. "ZnS in Hybrid Cell Configuration"
Participants: N. Vito and K. Jones
12. "Biofuel Potential of Perennial Grasses Across Florida"
Participants: J. Fedenko, J. Erickson, L. Sollenberger, J. Vendramini, R. Gilbert, K. Woodard, and L. Ingram
13. "Effect of Harvest Frequency and Timing on Perennial Bioenergy Grass Yield and Composition in Florida"
Participants: C. Na, L. Sollenberger, J. E. Erickson, and K. R. Woodard
14. "Development of a Photosynthetic Biorefinery Employing a Novel Marine Cyanobacterium"
Participants: B. Trump, E. Phlips, P. Pullammanappallil, and S. Svoronos
15. "Harnessing Flexibility of Electric Loads for Renewable Integration"
Participants: P. Chakraborty and P. P. Khargonekar
16. "Kinetics Investigation for Solar Syngas Production"
Participants: M. Bobek, D. Hahn, N. Rhodes, and R. Stehle
17. "Beyond PLA: Revolutionary and Evolutionary Advances in Green Polymer Synthesis"
Participant: R. Martin
18. "Reaction Pathways in Synthesis of CIGS Absorber Layers"
Participants: R. Krishnan, G. Tong, Z. Li, and T.J. Anderson
19. "Novel Approaches to Improved Transparent Conducting Oxides"
Participants: B. Hicks, G. Bosman, and T.J. Anderson
Participants: K. C. Ruppert and P. Jones
21. "PEEP – Energy Programming for County Residents"
Participant: R. Madhosingh-Hector
University of South Florida
22. "Earth Abundant Kesterite Materials for Thin-Film Solar Cells"
Participants: Y. Wang, D. L. Morel, C. S. Ferekides, and E. K. Stefanakos
23. "CIGS Solar Cells Produced by 2SSS Processing" WITHDRAWN
Participants: R. Anders D. L. Morel, C. S. Ferekides, and E. K. Stefanakos
24. "A Study on the Optimization of Dye Sensitized Solar Cell"
Participants: M. I. Khan, S. Collins, A. Hoff, and C. Ferekides
25. "The Effect of CSS Substrate Temperature on Substrate CdTe/CdS Solar Cells"
Participants: K. Singh, X. Feng, S. Bhavanam, M. I. Khan, D. L. Morel, and C. Ferekides
26. "Study of CdTe Doping Characteristics and Limitations for Achieving High Efficiency Thin Film Solar Cells"
Participants: V. V Kendre, V. K. Evani, M. Chilakamarri, D. Morel, and C. Ferekides
27. "Energy-Aware Database Disk Storage System" WITHDRAWN
Participants: Y. Tu, B. Zeng, P. Behzadnia, and W. Yuan
28. "The Role of Oxygen as a Reactant in Dimethyl Ether Formation from Methanol – A Comparative Study of Solid Acid Catalysts"
Participants: E. Qayyum and J. Kuhn
29. "Role of Pd Nanoparticle Size and Co-Feeding Carbon Dioxide on Hydrogen Production"
Participants: S. Hokenek and J. N. Kuhn
30. "Fluidic Microscale Assembly for Clean Energy Generation Systems"
Participants: N. Crane, Q. Ni, J. Carballo, and C. Liberti
31. "Effect of Surface Roughness in Photocatalytic Reactors for Indoor Air Cleaning"
Participants: Y. Zhang, E. K. Stefanakos, and D. Y. Goswami
32. "Evaluation of the Supercritical Carbon Dioxide Recompression Brayton Cycle for High Temperature Solar Applications"
Participant: S. Besarati
33. "Fischer Tropsch Synthesis via Biomass Derived Synthesis Gas"
Participants: S. A. Gardezi, B. Joseph, and J. T Wolan
34. "Towards Efficient FTS Catalysts: Size Effect of Cobalt Oxide Nanoparticle on Reaction Kinetics"
Participants: B. D. Mankidy, N. Balakrishnan, B. Joseph, and V. K. Gupta
35. "Geochemical Modeling of CO2 Sequestration in Deep, Saline, Dolomitic Limestone Aquifers: Sensitivity to Physico-Chemical Conditions"
Participants: M. W Thomas, M. Stewart, M. A Trotz, and J. Cunningham
36. "Harvesting Microalgae Grown on Wastewater for Biofuel Production"
Participant: I. Udom
37. "Influence of CO2 Cap and Trade Policy Parameters on Deregulated Electricity Networks"
Participants: F. F. Palacios and T. Das
University of North Florida
38. "Balance of Plant Development for Direct Methanol Fuel Cells"
Participants: B. Swanson, J. Fletcher, and W. Lear
39. "MEA Development for Direct Methanol Fuel Cells"
Participants: J. Harrington, J. Fletcher, and W. Lear
Education by FLATE
Participant: M. Barger
Florida Atlantic University
1.Title: Design Challenges of the Florida Current
Participants: H. P. Hanson, A. M. Smentek-Duer, and J. H. Van Zwieten, FAU
Category: Marine Renewable Energy
Abstract: The Florida Current offers the potential for renewable base-load power for the energy-hungry southeast Florida metropolitan area. Realizing this potential requires, among other things, understanding both the structure and variations of the current, because these are critical to the design of marine current turbine (MCT) systems. To this end, the Southeast National Marine Renewable Energy Center at Florida Atlantic University has deployed Acoustic Doppler Current Profilers offshore Fort Lauderdale. A year-long record obtained 16 km offshore in 350 m of water provides a particularly rich dataset. Although the fastest current occurs at the surface, deployment of MCT systems there would interfere with the busy commercial shipping lanes. At 50 m, below the draft of ships in the Straits of Florida, the average current speed in this record is 1.49 m/s, which implies a power density of 1695 W/m2, the equivalent of a 14 m/s wind. However, variability is large-the standard deviation is 0.3 m/s. Of more importance, the maximum speed is nearly three of these standard deviations above the mean at 2.35 m/s, which, in terms of power, is equivalent to tropical-storm strength winds, with power level a factor of four higher than the mean. The implication for design of conversion systems is clear, especially because the forces on equipment are a factor of ten greater in the ocean that in the atmosphere for similar power densities. Additional design challenges emerge from the variations in current direction and in the vertical structure of the current. These will be discussed in this poster.
Florida State University
2.Title: Clean Energy Policies of the Municipal-Owned Utilities – The Role of Smart Grid

Participants: Z. R. Siddiqui, FSU
Category: Energy Policy
Abstract: Electric Utilities in the nation, as well as in Florida have been planning to diversify their portfolios by incorporating sustainable sources of electricity. While Investor-own utilities (IOUs) are regulated by the States' public service commissions that require RPS (in states that mandated RPS); the Municipal-owned utilities (MOUs) are generally unregulated throughout the nation. They design their policies; in general, according to local institutional as well as governance-related factors of the constituencies, they serve. This makes them interesting laboratories to test the theories of policy diffusion and institutional collective action in the light of local level energy policy action. We use EIA data on the MOUs policies regarding adoption of sustainable energy, energy efficiency, Demand Side Management and Smart Grid along with local institutional and city/county related variables obtained from ICMA, Census and other local governance data sources to empirically study the local energy policies and their determinants. The results may be critically important for the future of energy policy formulation, energy security issues due to reduced dependence on imported oil and the local institutional framework.
3.Title: PV and Load Variability in Florida
Participants: R. Meeker, A. Springstroh, FSU-CAPS; D. K. Click, H. Moaveni, K. O. Davis, B. Reedy, A. Pappalardo, and R. Krueger, UCF-FSEC
Category: Solar and Grid
Abstract: Part of the concern with impact on the electric grid associated with high penetration levels of solar PV is due to the intermittent nature of the resource. Good information is needed on the nature of the variation in order to properly study the impacts. The Sunshine State Solar Grid Initiative (SUNGRIN) project, funded by the U.S. Dept. of Energy, is studying the nature of the PV variation in Florida, with data from project utility partners and others. This data is used to understand and characterize how solar PV power output varies temporally (on short and long time scales) and spatially (across different regions of Florida and in comparison to other parts of North America. This poster shares of sampling of results from examination of solar PV variability at different locations around the state. Load variation is also important, because, the net effect of PV on a circuit includes the load and because "penetration" levels are always defined with respect to some circuit loading. This also shares preliminary examination of load variation in Florida with respect to current accepted PV penetration level guidelines commonly employed by utilities.
4.Title: High Penetration PV Circuit Analysis and Results
Participants: H. Ravindra, M. O. Faruque, K. Schoder, M. Steurer, P. Mclaren, and R. Meeker, FSU-CAP
Category: Solar and Grid
Abstract: To support increasing penetration levels of solar PV in the electric grid, the potential impact on utility circuits must be understood. In partnership with Florida utilities, real distribution circuits are being modeled and examined for impact of PV on circuit voltage and voltage regulation, and fault response and protection system impacts. Results are shared on voltage and protection impact, based on modeling, simulation, and analysis of a Florida utility circuit with high levels of solar PV. The work is part of Sunshine State Solar Grid Initiative (SUNGRIN) project, funded by the U.S. Dept. of Energy.
5.Title: Developing a Reduced Model of the Florida Transmission Grid
Participants: J. Langston, M. Steurer, O. Faruque, P. McLaren, R. Meeker, K. Schoder, T. Baldwin, and S. Dale, FSU-CAPS
Category: Solar and Grid
Abstract: With funding from the U.S. Dept. of Energy and the Florida Energy Systems Consortium (FESC), FSU/CAPS has been working for several years on the development of a representative, validated, reduced size model of the Florida transmission grid to support long-term research and development and training. Specifically, the model FSU CAPS is developing will be of reduced size (reduced no. of buses), facilitating faster simulation solution times, and permitting it to be run on specialized simulation tools, such as the real-time digital simulator (RTDS) at CAPS, "notionalized", meaning details have been scrubbed or abstracted in some versions of the model to a level that facilitates sharing and use by a broader electric power systems research, training, and support community, and validated in cooperation with FRCC and Florida utilities to ensure it adequately captures important power system behaviors. The process of large grid model reduction is of interest as well as a means to produce reduced models from the very large system models currently used in the industry for planning and analysis. This describes status and results of the work to develop and validate a 154 bus notionalized model of the Florida grid.
University of Central Florida
6.Title: Effect of Processing Conditions on the Development of CuIn1-xGaxSe2-ySy (CIGSeS) and CuIn1-xGaxSe2 (CIGS2) Thin Film Absorbers

Participants: A. Kaul, E. Schneller, N. Shiradkar, and N. G. Dhere, UCF-FSEC
Category: Solar
Abstract: Thin films are sensitive to the processing conditions under which they are synthesized. A study has been carried out to determine the influence of processing parameters namely, stacking sequence of the metallic precursors, selenization/sulfurization temperature, and time on the development of CIGSeS and CIGS2 thin film absorbers. The correlation of these parameters with the device properties of the completed solar cells is presented.
7. Title: Solar Energy Collection on a Spherical Surface
Participants: K. Lin, and W. Deng, UCF
Category: Solar
Abstract: In city or residential areas, the currently used flat-panel solar collector has its limitations. A new idea can solve the problems: forming the solar cells into a spherical thin shell and enveloping it around a balloon. When the balloon is raised to a certain height, it will not be blocked by the surrounding buildings and can receive the sun rays from all directions in all seasons. This research analyzes the pros and cons of using a spherical surface to collect solar energy.
8.Title: Clustering and Cooperative Control of Distributed Generators for Maintaining Microgrid Unified Voltage Profile and Complex Power Control

Participants: A. Maknouninejad and Z. Qu, UCF
Category: Grid
Abstract: "To meet several power objectives, the idea of organizing Distributed Generators (DGs) into several clusters in a microgrid is proposed. Power objectives include maintaining active power flow to the main grid at a predetermined level, minimizing the reactive power flow to the main grid and maintaining a unified voltage profile across the microgrid. DGs are organized differently for active and reactive power control. All DGs realize active power objective in one group. As reactive power is used to maintain the unified voltage, DGs are grouped in several clusters to regulate multiple critical point voltages. The closest cluster to the point of common coupling, minimizes the reactive power flow and others manage their reactive power to regulate their critical points. Each cluster has a virtual leader which other DGs follow, utilizing the cooperative control. The cooperative law is also derived, based on the dynamics of the inverters."

University of Florida
9.Title: Providing Ancillary Services to the Grid for Increased Renewable Penetration by Using Flexible HVAC Power Consumption in Existing Commercial Buildings.

Participants: S. Meyn, and P. Barooah, UF
Category: Energy efficiency
Abstract: The vision of a sustainable energy future with a high degree of penetration of renewable energy (solar, wind, etc.) poses new challenges. One of them is the potential destabilization of the electric grid due to the intermittency of renewable power. If we extend the current paradigm of regulation of the grid using fast reacting spinning reserves to such a scenario, we will need to build a large number of, say, gas turbines, that can provide the necessary fast acting, flexible generation, to stabilize the grid in presence of the highly intermittent power injection from wind and solar farms. Clearly, this is contrary to the vision of a sustainable energy future.
We present a novel idea to provide a large amount of ancillary service (a controllable demand) by using the flexible power consumption of HVAC systems in existing commercial buildings. Large commercial buildings have large thermal inertia, so small variations in the flow rate of ventilation air around a nominal value does not affect the indoor environment of the building noticeably. Thus, by modulating the speed of the fans that provide ventilation into a building by small amount, we can create a reserve of flexible power demand that can be commanded to follow an ISO provided regulation signal. Though the amount of such flexible demand from a single commercial building is small, when done on a large scale such as a city, this provides a huge source of hitherto untapped regulation reserve. A key advantage of this approach is that this reserve is created by change of the building control algorithms, with virtually no additional investment. In this paper we provide an optimal-control based solution to compute the fan speed of a building HVAC system to track an ISO-provided regulation signal. We will also discuss some of the challenges in implementing such a solution, including the changes in the building control software that is needed.
10. Title: High Efficiency Inverted Dithienogermole-Thienopyrrolodione Based Polymer Solar Cells
Participants: C. E. Small, S. Chen, T. Lai, S. Tsang, F. So, and J. R. Reynolds, UF
Category: Solar
Abstract: Extensive efforts have been directed at developing polymer bulk heterojunction (BHJ) solar cells due to their potential for low-cost energy harvesting. The device geometry for typical laboratory-scale polymer solar cells consists of a bottom indium tin oxide (ITO) anode, an anode interfacial layer, a photoactive layer, and a low work function top metal cathode. This device architecture is not viable for large scale roll-to-roll (R2R) processing of polymer solar cells since vacuum deposition of low work function top metal cathodes is required. To make the devices R2R processing compatible, the typical strategy is to invert the polarity of the BHJ devices. These so-called "inverted cells" have an oxide ETL coated ITO as the bottom cathode and a screen printed Ag layer as the top anode, and to date this device architecture is prototypical for R2R processing.
To fabricate the ETL in the inverted device, solution-processed metal oxides have been widely used in large-scale inverted solar cells to reduce the ITO work-function. Particularly, ZnO colloidal nanoparticles (NPs) are used for the ETL because of their low work-function, high electron mobility and optical transparency, and the ease of synthesis. However, the major challenges in ZnO NP films as ETLs are the presence of defects with adsorbed oxygen and poor spatial distribution of the nanoparticles in large area. Thus the need to develop low defect and uniform ZnO films is desired to realize high efficiency inverted polymer solar cells.
In this work, we show enhanced charge collection in inverted polymer solar cells using a UV-ozone treated ZnO-polymer composite as an ETL. Using this approach, inverted polymer solar cells based on the low band-gap polymer having an alternating dithienogermole-thienopyrrolodione repeat unit (PDTG-TPD) with laboratory measured power conversion efficiencies (PCEs) in excess of 8% and certified efficiencies of 7.4% are demonstrated. To our knowledge, this is the highest efficiency reported for polymer solar cells with a device architecture compatible with the R2R process.
11.Title: ZnS in Hybrid Cell Configuration
Participants: N. Vito, and K. Jones, UF

Category: Battery
Abstract: ZnS electrodes are studied in both a liquid electrolyte and liquid plus solid electrolyte configuration to determine the viability of sulfur based Li-ion hybrid batteries. The ZnS is prepared solvothermally to achieve particle sizes on the order of 20 nm. The electrode is deposited on Cu foil and is opposite Li metal in a 1.0 M LiPF6/ethylene carbonate (EC) + dimethyl carbonate (DMC) electrolyte to form a battery. Dissolution of lithium sulfide products results in the loss of active material and can rapidly degrade capacity retention. A solid state AlGaSPO4 electrolyte is employed in order to reduce the migration of lithium sulfides to the anode surface.
12.Title: Biofuel Potential of Perennial Grasses Across Florida
Participants: J. Fedenko, J. Erickson, L. Sollenberger, J. Vendramini, R. Gilbert, K. Woodard, and L. Ingram, UF
Category: Energy Crops
Abstract: Carbohydrate and lignin composition of feedstock materials are major factors in determining cellulosic ethanol potential. This study was conducted to quantify the sugars and lignin present in six potential biofuel grasses (elephantgrass, energycane, sweetcane, giant reed, giant miscanthus and sugarcane) across three sites in Florida for plant (2009) and first ratoon (2010) crops, and to evaluate yield potential under optimum management conditions. Biomass composition was done according to the National Renewable Energy Laboratory procedure for the determination of lignin and structural carbohydrates. Giant miscanthus had significantly less glucose as a component of structural biomass (620 vs 680-710 mg/g), but significantly more minor hemicellulose sugars (41 mg/g arabinose and 3.5 mg/g mannose) compared to most other species. Structural lignin concentrations varied by approximately three percentage units across species, and were generally highest in sweetcane and giant reed. Significant variability was found among species for sugars in nonstructural extractives, but sucrose was the predominant sugar. Sugarcane had the highest concentrations of extractive sugars, followed by energycane, then sweetcane, elephantgrass and giant reed, with giant miscanthus having the lowest concentrations of sugars as a component of extractives (150 to 750 mg/g). Dry biomass yields were typically highest for and comparable amongst sugarcane, energycane, sweetcane and elephantgrass, lower for giant reed and lowest in giant miscanthus. Overall, elephantgrass and energycane were prime candidates for cellulosic conversion due to high yields, favorable fiber characteristics and lower lignin concentrations when compared with other high yielding species.
13.Title: Effect of Harvest Frequency and Timing on Perennial Bioenergy Grass Yield and Composition in Florida
Participants: C. Na, L. Sollenberger, J. E. Erickson, and K. R. Woodard, UF
Category: Energy Crops
Abstract: Frequency and timing of harvest are important management practices affecting yield, yield distribution, and chemical composition of bioenergy grasses. The objective of this research was to compare harvest management practices for tall grasses in Florida. The experiment was conducted in North Central Florida in 2010 and 2011. Two elephantgrass (Pennisetum purpureum Schum.) entries ("Merkeron" and a breeding line referred to as UF-1) and one energycane (Saccharum spp.; "L79-1002") were compared. The harvest management treatments were i) two harvests per year (2X; summer and fall), ii) one harvest per year in fall (FALL; before freezing temperatures), and iii) one harvest per year in winter (WINTER; within 1 wk after the first freeze). Grass yield in the first year of harvesting was not affected by harvest frequency (Fall vs. 2X) or timing of harvest relative to first freeze (Fall vs. Winter). The UF-1 line outyielded all other entries. Energycane had lower concentrations of NDF, ADF, and ADL than elephantgrass for Fall and Winter harvests but not for the 2X treatment. Preliminary data show that UF-1 elephantgrass appears to have excellent potential for use as a biomass crop in Florida.
14.Title: Development of a Photosynthetic Biorefinery Employing a Novel Marine Cyanobacterium
Participants: B. Trump, E. Phlips, P. Pullammanappallil, and S. Svoronos, UF
Category: Biomass-Algae
Abstract: Although microalgae provide excellent means of capturing sunlight and atmospheric carbon dioxide for the production of biomass associated with renewable resource technologies, impediments to their widespread utilization include the need for large inputs of freshwater and nutrients and the high cost of separating out valuable products. Our current research is focused on establishing a path for the production of a biofuel (methane) using a novel new marine cyanobacterium as the primary feedstock. The approach is transformative because it utilizes a species that eliminates the need for freshwater inputs or external addition of nitrogenous nutrients and avoids expensive purification methods for product recovery.
15.Title: Harnessing Flexibility of Electric Loads for Renewable Integration
Participants: P. Chakraborty, and P. P. Khargonekar, UF
Category: Grid
Abstract: Large scale integration of renewable energy sources, e.g., wind and solar, in the existing electrical grid will introduce new challenges. This is primarily due to the fact that renewable generation is highly variable and uncertain. One promising approach to this problem is to intelligently schedule the electrical loads such as air conditioners, dishwashers, washers, dryers, etc. by taking the advantage of their inherent flexibilities. Here we take an intraday time horizon where we have a very good prediction of renewable generation. Based on the supply schedule of thermal generators and predicted supply of renewable generation, the demand side is controlled. If there is a utility to centrally manage, it will try to minimize the supply-demand imbalance and maximize the overall "utility". If there is no central control, individuals will try to maximize their "utility functions" and minimize the price of energy consumption.
We show that there is a time varying price which can be set by utility such that utility's objective aligns with individual's objective, if individuals are price takers. A distributed algorithm is developed to compute the time varying price and energy consumption schedule. If the users are price anticipators, there will be some loss of social welfare in distributed control. A mathematical formula for the loss of welfare is calculated and a distributed algorithm is developed to compute the Nash equilibrium energy consumption schedule.
16.Title: Kinetics Investigation for Solar Syngas Production
Participants: M. Bobek, D. Hahn, N. Rhodes, and R. Stehle, UF
Category: Solar/Thermal Storage
Abstract: A novel research project has been awarded to the University of Florida Solar Fuels Team (UFSFT) that pertains to thermochemical fuel production via a low pressure iron-oxide looping process. Using concentrated solar energy to produce Syngas from recycled CO2 and liquid water under a metal oxide looping process is an effective precursor to the development of carbon neutral synthetic fuels that can compete and coexist with the hydrocarbon fuel infrastructure that exists today. The study into the kinetics of the process focus on the optimization of oxidation and reduction kinetics in support of robust operation and long-time cycle stability. The kinetics of iron oxidation under water alone or likewise with CO2 can be modeled accurately and effectively, however the kinetics of both oxidations coupled together is a more complex system of reaction due to side reactions that may occur between the supplied species and the produced syngas. The goal of the kinetic study to this point has been quantify the surface reaction rates for hydrogen production and carbon monoxide production independently from one another, then obtaining the quantified reaction rates for the coupled syngas production in order to develop the surface mechanisms for the entire oxidation process. Quantification of surface reduction rates and development of surface mechanisms for the reduction step have also been considered and the investigation is ongoing. The ultimate goal is to have complete performance testing done under repeated cycling for syngas production in hopes to fully optimize operational conditions and reactor design.
17.Title: Beyond PLA: Revolutionary and Evolutionary Advances in Green Polymer Synthesis

Participants: R. Martin, UF
Category: Green Materials
Abstract: Traditional thermoplastics (polyethylene, polystyrene, et al.) are extremely useful materials, but come with major drawbacks in that they are made from non-renewable petroleum sources and are extremely reluctant to degrade under natural conditions, perhaps having degradation profiles of up to 1000 years. Some recent commercial success has come in the form of PLA (polylactic acid), which can be made from renewable sources, and has similar properties to its petroleum-based counterparts, but unfortunately does not solve the degradation problem, and furthermore pollutes the recycling stream, making it very difficult to grab a significant market share with this "green" polymer. Florida Sustainables and the University of Florida have developed a family of cost-effective materials called PLASTIKATA that are designed on a molecular level to address the entire life-cycle of the material, having a green "birth", a useful lifetime, and a green "death".
18.Title: Reaction Pathways in Synthesis of CIGS Absorber Layers
Participants: R. Krishnan, G. Tong, Z. Li and T.J. Anderson, UF
Category: Solar
Abstract: The chalcopyrite solid solution Cu(InxGa1-x)Se2 (CIGS) is a commercially emerging thin film absorber material with champion cell exceeding 20 % efficiency. The major challenge in achieving low cost is to increase the synthesis rate of CIGS at lower temperature. Recognizing this challenge the national solar technology roadmap calls for decreasing the absorber synthesis time to 2 min by 2015 while retaining the efficiency. We have been using in-situ high temperature X-ray diffraction to better understand reaction pathways and determine rate constants. These studies have suggested that synthesis of Cu(InxGa1-x)Se2 is diffusion limited for most precursor structures. Both qualitative and quantitative models have been developed for variety of precursor structures. The models obtained will be used to estimate species mobilities using DICTRA.
19.Title: Novel Approaches to Improved Transparent Conducting Oxides
Participants: B. Hicks, G. Bosman, and T.J. Anderson, UF
Category: Solar
Abstract: 2 Dimensional device simulations for CIGS were performed using a top contact layer of a MgxZn(1-x)O/ZnO quantum well structure transparent conducting oxide. The fill factor and efficiency were improved. The high electron mobility of the quantum well structure allowed a thinner TCO layer to be used, which improved the optical transmission of near IR radiation. The high ratio of electrical conductivity to optical transparency can improve the performance of CIGS concentrator cells.
20.Title: Sustainable Floridians
Participants: K. C. Ruppert, and P. Jones, UF
Category: Extension Outreach
Abstract: Sustainable Floridians is an Extension Program that offers citizens, business people and government officials training about green and sustainable practices. Operated as a teaching program in some counties and a volunteer program in others, this interactive class brings in local knowledge, creates group discussion and promotes lasting behavioral change. Primary program goals are: improved environmental and financial resilience for participants and communities; providing information that identifies Florida-appropriate targeted actions for conserving resources, including energy and water; motivating participants to implement conservation and efficiency actions that save resources and money; and providing a forum that promotes sustainability leadership within the community. Those completing the program become active participants in the mission of the Florida Extension Service to transform societies through lifestyle choices and behaviors.
21.Title: PEEP – Energy Programming for County Residents
Participants: R. Madhosingh-Hector, Bushnell Center for Urban Sustainability, UF/IFAS, Pinellas County Extension
Category: Outreach
Abstract: With the anticipated rise of energy costs and the aging of our built infrastructure, it is imperative that we have an action plan to encourage energy conservation and move towards a sustainable energy future. PEEP is the Pinellas Energy Efficiency Project, a cooperative education outreach project focusing on energy conservation and greenhouse gas reduction across Pinellas County. This community-based program funded by the American Recovery and Reinvestment Act offers training to contractors and the public. Methods: Delivery of training and materials (CFLs) uses a targeted marketing strategy that leverages partnerships with existing community and civic organizations. PEEP uses a combination "low tech"/ "high tech" approach that included the development of a PEEP website; utilizing blogs; social media like Facebook and Twitter; flyers; outreach events; and, television and radio segments. PEEP also created a Youth Energy Contest to educate younger audiences. Results: To date, this 2 year grant funded project has reached 16,000 residents and distributed 60,000 CFLs. PEEP surveys indicate that 74% of participants turned off lights in unoccupied spaces, 57% unplugged "energy vampires", and 17% performed home efficiency improvements including insulation and duct checks. Conclusion: Product distributed results in a savings of 31 million kWh, the prevention of 22,000 tons of CO2 emissions and a savings of $4.5 million by consumers. Follow-up surveys of class participants indicate that participants implemented behavior changes with regard to their energy use at home and made modifications to their home to achieve energy efficiency
University of South Florida
22.Title: Earth Abundant Kesterite Materials for Thin-Film Solar Cells

Participants: Y. Wang, D. L. Morel, C. S. Ferekides and E. K. Stefanakos, USF
Category: Solar
Abstract: CuInGaSe2(CIGS) thin-film solar cells are widely recognized as the thin-film technology with the greatest potential. Laboratory cells with efficiency of 20% have been realized, and module efficiencies up to 17.5% are being reported. A significant difficulty with this technology is the use of In. In large scale production the quantity of In required will exceed its availability and drive up prices. To address this issue alternative materials are being pursued. To replace In, a Group III element, a Sn/Zn atomic couple can be utilized to satisfy bonding requirements of the In site. Replacing alternating In sites in the CIS lattice with Sn and Zn results in the kesterite structure Cu2 ZnSnSe4(CZTSe). Solar cell efficiencies in excess of 10% have been reported for this material. The challenge is to improve this to the 20% level of CIGS, and to produce devices with a manufacturable process. Because of the increased complexity of this structure it is difficult to control its formation. Secondary phases are easily formed which adversely affect electronic properties. Because the XRD signatures of these phases are nearly identical to those of CZTSe, it is difficult to determine their presence and influence on device performance. We have developed an optical model that can sense the presence of these phases. It is being utilized to guide the fabrication of our kesterite films and devices. One of our findings is that films with the same stoichiometry can have significantly different band gaps. This seems to be rooted in the presence of secondary phases. We are currently extending our study of these optical mechanisms to electronic properties and device performance, and our latest results will be presented at the conference.
23.Title: CIGS Solar Cells Produced by 2SSS Processing
Participants: R. Anders D. L. Morel, C. S. Ferekides and E. K. Stefanakos, USF
Category: Solar
Abstract: CuInGaSe2(CIGS) thin-film solar cells have exhibited the highest efficiency of the thin-film technologies. Several organizations worldwide are attempting to commercialize the technology. The two leading technologies being employed are co-evaporation and two-step selenization using H2Se gas. While these technologies produce high efficiency devices, the associated manufacturing cost is limiting commercialization potential. We are developing an alternative deposition technology, 2SSS, 2-step Solid Source Selenization. The projected manufacturing cost promises to be lower, but the challenge is to demonstrate equivalent performance. Like the near-commercial H2Se-based process indicated above the process is 2-step involving selenization of metal precursor stacks. Within the 2-steps of the process there are also two individual layer deposition steps that are utilized. We have demonstrated equivalent performance to co-deposition for the first layer and are currently extending our experiments to deposition of the second layer to complete the entire device with the 2SSS process. Our latest results will be presented at the conference.
24.Title: A Study on the Optimization of Dye Sensitized Solar Cell
Participants: M. I. Khan, S. Collins, A. Hoff, and C. Ferekides, USF
Category: Solar
Abstract: Silicon based conventional solar cells and thin film cells based on CdTe or GaAs are already providing significant amount of green energy. Considering biocompatibility, the Dye Sensitized Solar Cell (DSSC) based on titanium dioxide is a potential candidate and should play a major role in the future of solar energy. Unlike other solar cell technologies, DSSC fabrication process is easier and less expensive. As of now efficiency, as high as 12%, has been reported with organic dyes. In this ongoing study, different components and ambient process conditions are investigated. Titanium dioxide substrate thickness and morphology is found to have a direct impact on the cell efficiency. Scanning Electron Microscopy (SEM) has been used to investigate the TiO2 nanostructure. Different chemical treatments and electrolytes are also explored towards optimizing the cell performance. A group of porphyrin based organic dyes were synthesized and evaluated. The solar cells are being characterized using standard current-voltage and spectral response measurements.
25.Title: The effect of CSS Substrate Temperature on Substrate CdTe/CdS Solar Cells
Participants: K. Singh, X. Feng, S. Bhavanam, M. I. Khan, D. L. Morel, and C. Ferekides, USF
Category: Solar
Abstract: Cadmium telluride is a promising material for developing low-cost and high efficiency solar cells. Various deposition processes are available for depositing the CdTe absorber layer. Among these processes, Close Spaced Sublimation (CSS) is one of the leading methods used to deposit CdTe. Low-cost, easy setup and simplicity are among the advantages for CSS process. Various factors such as substrate and source temperature and gas partial pressure affect the quality of the CSS films. In this poster, the effect of substrate temperature during CSS deposition of CdTe will be presented. The effect on the morphological properties of CdTe films and electrical properties of CdTe/CdS solar cells will be discussed. The substrate temperature influences the structural properties of the CdTe films, and also appears to have an effect on the cell performance – open circuit voltage (Voc), fill factor (FF), and short circuit current (Jsc). Thin films are characterized by SEM and XRD; solar cells are characterized by current voltage, capacitance-voltage, and spectral response measurements.
26.Title: Study of CdTe Doping Characteristics and Limitations for Achieving High Efficiency Thin Film Solar Cells.
Participants: V. V Kendre, V. K. Evani, M. Chilakamarri, D. Morel, and C. Ferekides, USF
Category: Solar
Abstract: Heterojunction CdTe/CdS Solar cells, made from polycrystalline CdTe films, have recently reached a maximum efficiency of 17.3%, a rise of about 2% over two decades. The CdCl2 annealing treatment was one of the significant breakthroughs in increasing the efficiency of the CdTe cell back in the early 90's. It is believed that efficiencies up to 20% can be achieved if CdTe films can be made with a carrier concentration greater than 1016cm-3 and higher carrier lifetimes (>2 ns). This will help in increasing the VOC of the cells and thereby lead to an increase in efficiency. P-type doping has always been a bottleneck issue in CdTe because of the inability i) to find a highly soluble acceptor impurity, or ii.) the formation of shallow acceptor levels and iii.) the carrier compensating mechanisms even when the first two conditions are satisfied. The objective of this study is to develop and implement a process in which these issues can be addressed, to achieve controlled doping of CdTe. A deposition process, called the Elemental Vapor Transport (EVT) is being developed. Each constituent element and extrinsic dopants will be deposited from the gas phase on a glass substrate by controlling the flow rates of the respective gases. The poster will present results on CdTe films deposited by the EVT process.
27.Title: Energy-Aware Database Disk Storage System
Participants: Y. Tu, B. Zeng, P. Behzadnia, and W. Yuan, USF
Category: Electrical Power
Abstract: Energy consumption has become a first-class optimization goal in the design and implementation of the computing systems. The database storage system (DBMS) is the major consumer of the energy in the modern data centers. Therefore, we propose our recent research on designing the power-aware database storage system. Given that the dynamic power management (DPM) techniques are the most efficient and common methods used to save energy in disks, we integrate our DPM model into the DBMS's data management policy in order to minimize the power consumption of the database disk storage system while satisfying the given performance bound. We evaluate our proposed ideas through running experimental simulations. Our preliminary results clearly provide promising energy savings in this context.
28.Title: The role of Oxygen as a Reactant in Dimethyl Ether formation from Methanol – A Comparative study of Solid Acid Catalysts.
Participants: E. Qayyum, and J. Kuhn, USF
Category: Catalyst for Alternate Energy Development
Abstract: Acid catalysts are employed in the methanol dehydration to Dimethyl Ether (DME). However, acid catalysts such as alumina and silica/alumina come with their own sets of problems for the reaction – they are responsible for the formation of unsaturated hydrocarbons and contribute to coking. Aluminum Phosphate was synthesized and studied as a possible catalyst for DME formation. To eliminate or minimize side reactions and increase catalyst activity over silica/alumina and alumina, we investigated methanol oxidation towards DME by varying the different partial pressures of oxygen over a range of temperatures (448-623 K) while keeping the rest of the reactants constant.
29.Title: Role of Pd Nanoparticle Size and Co-Feeding Carbon Dioxide on Hydrogen Production
Participants: S. Hokenek, and J. N. Kuhn, USF
Category: Alternative fuels
Abstract: Monodisperse palladium particles of six distinct sizes between 4-16 nm were synthesized in a one-pot polyol process by varying the molar ratios of the two palladium precursors used, which contained palladium in different oxidation states. This difference permitted size control by regulation of the nucleation rate because low oxidation state metals ions nucleate quickly relative to high oxidation state ions. After immobilization of the Pd particles on silica through sonication, the catalysts were characterized by X-ray absorption spectroscopy and applied toward catalytic methanol decomposition. This reaction was determined to be structure sensitive with the intrinsic activity (turnover frequency) increasing with increasing particle size. Moreover, observed catalytic deactivation was linked to product (carbon monoxide) poisoning. Co-feeding carbon dioxide caused the activity and the amount of deactivation to decrease substantially.
30.Title: Fluidic Microscale Assembly for Clean Energy Generation Systems
Participants: N. Crane, Q. Ni, J. Carballo, and C. Liberti, USF
Category: Solar
Abstract: There are many efficiencies to microsctructured systems; however, it is often not feasible to assembly microscale systems due to the challenges of scaling traditional "grasp and release" assembly to the microscale. Alternative techniques like self-assembly face other challenges such as managing stochastic errors and achieving adequate assembly rates. Fluidic assembly offers a promising alternative for microscale assembly. It generates larger forces than gravity at the microscale, is controllable by multiple methods, and can be done at a very low cost. We will review recent progress in manipulating floating components by deforming a liquid interface and discuss how this could be used to fabricate a low-cost concentrated photovoltaic system based on sub-millimeter single crystal PV cells.
31.Title: Effect of Surface Roughness in Photocatalytic Reactors for Indoor Air Cleaning
Participants: Y. Zhang, E. K. Stefanakos, and D. Y. Goswami, USF
Category: Photocatalysis
Abstract: This study was conducted to enhance the effectiveness of the photocatalytic process by introducing artificial roughness elements in the photocatalytic reactor for indoor air cleaning. Artificial roughness elements on the catalytic coated surface could enhance the flow turbulence level close to the catalytic surface. The enhanced turbulence level would translate to an increase in the mass transfer of airborne contaminants to the catalyst surface, improving the efficiency of photocatalysis. Air flow properties in a photoreactor channel with rib roughness on its walls were investigated by the "realizable k-epsilon (k-ϵ)" model. The investigated has covered V shape and inclined rib with angle of attack of flow (α) of 30-90o and broken ribs with relative roughness length (l/e) of 1-48 and relative roughness gap (g/e) of 1-16. Compare to smooth duct under similar flow conditions, the turbulence intensity in the optimum roughness channel has significant enhanced. The significant enhanced turbulence intensity means the mass transfer of airborne contaminants to the catalyst surface has been significant enhanced and the efficiency of photocatalysis could be great improved.
32.Title: Evaluation of the Supercritical Carbon Dioxide Recompression Brayton Cycle for High Temperature Solar Applications
Participants: S. Besarati, USF
Category: Power
Abstract: A number of studies have already been performed to assess the potential of supercritical carbon dioxide recompression Brayton cycle for power generation. These studies are mainly related to nuclear applications where the maximum temperature of the cycle is around 480 C. In the present study, the performance of the cycle is evaluated for high heat source and ambient temperatures, which resembles the high temperature solar applications. First, a reference cycle is simulated and thermal efficiency is obtained for different operating temperatures. Then, the performance of alternative layouts such as recompression cycle with an intercooler are investigated and compared with the reference cycle.
33.Title: Fischer Tropsch Synthesis via Biomass Derived Synthesis Gas
Participants: S. A. Gardezi, B. Joseph, and J. T Wolan, USF
Category: Biomass
Abstract: Due to the recent surge in energy costs and uncertainties in fuel prices, there is significant interest in seeking alternative sources of energy particularly from renewable such as biomass. Indirect liquefaction of biomass (via the thermo-chemical conversion to syngas followed by liquefaction via Fischer-Tropsch Synthesis or FTS) offers a commercially viable route for meeting the challenge of producing renewable fungible liquid fuels. Apart from biomass, FTS is also the critical step for converting natural gas and coal to liquid fuels.
A FTS technology has been developed for producing middle distillates (diesel and aviation fuel) by using pine chips as the main feedstock. In this "two step" process, pine chips were subjected to an entrained flow gasification process developed by Pearson et al. The resulting tar free gas is comprised mainly of carbon monoxide, hydrogen, carbon dioxide, methane and some organic contaminants such as benzene, toluene, and naphthalene along with substantial amount of water. For further liquefaction this gas was cleansed using multiple adsorbents. An inline "Shaw Moisture Meter" was used to continuously monitor the moisture content of the feed to the liquefaction process.
For the production of liquid fuels, eggshell cobalt catalysts were used. Cobalt catalysts have several advantages e.g. they produce linear paraffinic hydrocarbons and minimize undesirable water gas shift reaction. This eggshell design is a well-known strategy for producing a narrow hydrocarbon distribution. In this regard previous research work conducted by Iglesia et al. was also consulted. A bench scale fixed bed reactor was used for the conversion of syn-gas. Modeling of the reactor startup and of adjustment of the reactor packing ensured successful operation resulting in a high conversion and narrow distribution of hydrocarbons in the range of diesel and aviation fuel.
34.Title: Towards Efficient FTS Catalysts: Size Effect of Cobalt Oxide Nanoparticle on Reaction Kinetics

Participants: B. D. Mankidy, N. Balakrishnan, B. Joseph, and V. K. Gupta, USF
Category: Biomass
Abstract: Growing concerns of pollution, in addition to the rapidly depleting oil reserves, motivate research towards production of clean synthetic hydrocarbon fuels from biomass using catalytic technologies such as Fischer Tropsch Synthesis (FTS). We have synthesized cobalt (Co) nanoparticles with precise size control (1-14nm) to study the dependency of Co nanoparticle size on catalytic activity. FTS catalysts were prepared by immobilizing these cobalt nanoparticles on sub-micron sized SiO2 by surface functionalization technique. Since chemical interaction of carbon monoxide (CO) gas on catalyst nanoparticle surface is one of the primary steps, we have investigated the CO oxidation reaction on the nanoparticle surface. A temperature programmed method with in-situ FTIR spectroscopic characterization was used to systematically study nanoparticle size effect on the reaction. In addition to kinetic modeling of the activation energies, the proposed reaction energetics have been supported by DFT calculations on a CoO surface.
35.Title: Geochemical Modeling of CO2 Sequestration in Deep, Saline, Dolomitic Limestone Aquifers: Sensitivity to Physico-chemical Conditions
Participants: M. W Thomas, M. Stewart, M. A Trotz, and J. Cunningham, USF
Energy Category: Carbon Capture
Abstract: Geochemical modeling is used to predict the effects of CO2 injection into a deep, saline, dolomitic limestone aquifer. The purpose of the analysis is to determine how the potential for CO2 sequestration in Florida depends upon key physico-chemical characteristics of the subsurface. Specifically, we evaluate the importance of the temperature of the aquifer, the initial pH of the brine, the salinity of the brine, and the injection pressure of the CO2. Model outputs used to evaluate the system are the post-injection pH of the brine, the mass of minerals that dissolve and/or precipitate, and the quantity of CO2 sequestered by solubility trapping. Two variants of the geochemical model are used to determine if the predicted results are influenced by the sub-models selected for estimating thermodynamic quantities. Main results are as follows: (1) the post-CO2-injection brine pH is most sensitive to salinity and temperature, only slightly sensitive to the CO2 injection pressure, and unaffected by the initial brine pH; (2) mineral precipitation/dissolution is very sensitive to salinity and temperature, and slightly sensitive to the initial brine pH and the CO2 injection pressure; and (3) solubility trapping of CO2 is most sensitive to brine salinity and somewhat sensitive to temperature. Slightly increased CO2 solubility trapping is predicted at higher CO2 injection pressure, but the effect is limited by the non-linear increase of CO2 solubility with pressure. Maximum CO2 solubility trapping is observed in conditions of low salinity and low temperature, but these conditions may result in greater alteration a carbonate-mineral aquifer through mineral dissolution and precipitation. In all cases, the two variants of the model produce very similar predictions. We conclude that a medium- to high-temperature aquifer containing low-salinity brine is a preferred storage repository due to reduced risk of carbonate mineral modification and reasonably high solubility trapping of injected CO2.
36.Title: Harvesting Microalgae Grown on Wastewater for Biofuel Production
Participants: I. Udom, USF
Category: Biomass
Abstract: Microalgae have the ability to mitigate CO2 emissions and have high rates of biomass production. However, the economics of large scale algal biofuel production have been hindered by problems separating the relatively dilute algae from the media in which they are cultivated. Effective flocculation processes for microalgae grown on wastewater coupled with a better understanding of the cost and the life cycle impacts of different harvesting alternatives could lead to more economical large scale production of algal biofuels. The specific objectives of this research were to investigate the effect of different coagulants on algae recovery and dewaterability. Cost and lifecycle impacts, including greenhouse gas (GHG) emissions and energy consumption, were also evaluated. Indigenous algae were grown on wastewater centrate in semi-continous flow tubular photobioreactors under natural light conditions. Algae suspension were collected from the reactors and algae were recovered by coagulation with multivalent metal salts (alum, ferric chloride), cationic polymer (Zetag 8819), anionic polymer (E-38) and two natural flocculants (Moringa Oleifera and Opuntia ficus-indica cactus). The optimal centrifugation speed and time for measuring the relative dewaterability of different coagulant treatments was found to be 2000 rpm and 10 min, respectively. Data from the coagulation and dewaterability tests were used to estimate costs and environmental impacts of different harvesting strategies. Results for moringa, cactus and anionic polymer showed that these would not be economically feasible for algae harvesting. Results for the non-ionic polymer were also not significantly differenct from unamended controls. At initial algae concentrations between 540 – 720 mg/L, the optimal coagulant and harvesting efficiency was found to be 34- 140mg/L and 91 -98% for alum, ferric chloride and cationic polymer. Economic analysis and LCA studies revealed the cationic polymer had the lowest cost but the highest GHG emissions while ferric chloride had the highest cost but lowest GHG emissions. These findings can be extended to other algae culturing systems to design effective and economical harvesting systems with an emphasis on reducing environmental impacts.
37.Title: Influence of CO2 Cap and Trade Policy Parameters on Deregulated Electricity Networks
Participants: F. F. Palacios, and T. Das, USF
Category: Policy
Abstract: Due to the increasing CO2 emissions, considering that more than the 40% is generated by the power industry, it is imperative to develop strategies to reduce the environmental impact. One of these strategies is a cap-and-trade program. Available reports state that if we create the right kind of system, we can not only get off the fossil-fuels roller coaster, but speed the transition to a clean energy economy that puts the interest of people before interests of polluters. The impact of different strategies needs to be considered. Most companies pass the cost to consumers while the government is acquiring an important amount of money collected from the different auctions.
University of North Florida
38.Title: Balance of Plant Development for Direct Methanol Fuel Cells
Participants: B. Swanson, and J. Fletcher, UNF; W. Lear, UF
Category: Fuel Cells
Abstract: The University of North Florida with project partner University of Florida has developed multiple Direct Methanol Fuel Cell (DMFC) power supplies which represent the cutting edge for portable power applications in the 15-30 W range. The most recent power supply that has been developed, the Developmental Prototype 4 (DP4), was created as part of the DOE funded project "Advanced Direct Methanol Fuel Cell for Mobile Computing". In order to maximize the performance metrics (specific power, power density, etc.) for the DP4, each component (pumps, fans, sensors, etc.) had to be evaluated for power consumption, performance, efficiency, weight and size. Finally, all of the components had to be packaged into a tightly integrated assembly. Utilizing this balance of plant and the Membrane Electrode Assemblies (MEA) developed at UNF, the power supplies have demonstrated energy densities and specific energies that exceed (2-3x) lithium-ion battery technology for extended durations.
39.Title: MEA Development for Direct Methanol Fuel Cells

Participants: J. Harrington, and J. Fletcher, UNF; W. Lear, UF
Category: Fuel Cells
Abstract: The University of North Florida with project partners Johnson Matthey Fuel Cells, Northeastern University and University of Florida developed an advanced Membrane Electrode Assembly (MEA) for use in Direct Methanol Fuel Cell (DMFC) systems. The MEA utilizes a passive water management strategy that allows for the elimination of bulky and heavy components such as the condenser, fans, knockouts, etc. The elimination of these components enables a smaller and lighter package. The MEA performance, durability and cost can be improved by transferring the technology developed in UNF's pilot MEA production facility to commercial processes for large scale production. As part of the DOE funded project "New MEA Materials for Improved DMFC Performance, Durability and Cost", UNF successfully transferred MEA production technology to Johnson Matthey and improved the performance and degradation of the existing MEA in order to accelerate the commercialization of DMFC technology.
Education by FLATE
40.Title: Energy Education

Participants: M. Barger, FLATE
Category: Education
Abstract: In 2008, Florida's legislature directed, via FESC, the Florida Energy Systems Consortium, the State's University and College system to develop applied research and specific technical education pathways to allow Florida to meet its 2020 energy generation and demand criteria. The current strategy is entertaining a mix of conventional, nuclear, solar and bio-fuels for generation and a range of options to make Florida "green" within a "smart" grid. In that same legislative action, FLATE, the National Science Foundation Advanced Technological Education Center of Excellence for Florida, was commissioned to partner with FESC to prepare and execute a technician workforce plan that will put that energy workforce into place on time. At a time when green job sectors are flourishing, interest in reducing operating costs by maximizing energy efficiency is growing significantly, both in Florida and throughout the nation. This poster will describe the past work of the FLATE – FESC partnership as well as outline the new proposed Industrial Energy Efficiency Specialization for the Associate of Science Engineering Technology (ET) degree and associated College Credit Certificate, designed to match training directly to industry needs.